Type Image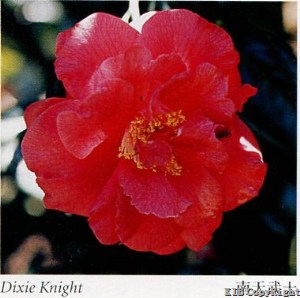 Chosen by wangzhonglang
Id:ICR-3942
Country:United States
Year Published/Registered:1955
Cultivar Type:For Ornamental
AGM Type:
Scientific Name:Camellia japonica 'Dixie Knight'
Species/Combination:C. japonica
Chinese Name:南天武士
Japanese Name:
Meaning:
Synonym:
Nantian Wushi Shao, Taichong, 1992, The Observations from the Camellia World, No.285, p.73. Chinese synonym for the USA C.japonica Dixie Knight.
营火晚会 茶花林目录,1992-2006, p.7/28, No.511.
» English Description
American Camellia Yearbook, 1955, p.336, Reg. No.230: An 8 year old seedling; originated by Central Georgia Nurseries, Macon, Georgia, USA. First flowered 1954. Plant growth, upright, vigorous, compact and rapid in rate with midgreen leaves, oval, cor­date, abrupt-cuspidate, serrate, 10 cm long x 5 cm wide. Flower buds are large, oval, tapering bases and bronze green. The very dark red flowers, 10-12.5 cm across, are semi-double, similar to Emperor of Russia. Stamens in 5 groups. Flowers mid-season to late. See colour plate, p.66, 79, Macoboy, 1981, The Colour Dictionary of Camellias. Sports: Dixie Knight Supreme, Dixie Knight Variegated. Chinese synonym: 'Nantian Wushi'.
» Chinese Description
朱國棟、蔡燦玉,2011. 《台灣茶花族譜》 p.72.
Dixie Knight 南天武士 (C. japonica) 红山茶 。 1955,美国乔治亚州 Macon,Central Georgia种苗园培育选出。8年自然实生种,初花1954年。半重瓣〜松牡丹、浓黑红色、大轮(10〜12.5cm)、花期1〜3月、树性直立、浓密、长势强。花名:Dixie(1861年美国南部各州组成的南部联邦)。突变种:Dixie Knight Supreme。
Dixie Knight (营火晚会)一茶花林目录,1992-2006, p.7/28, No.511.