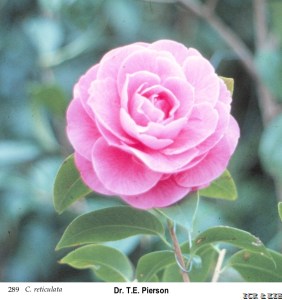 Type Image Chosen by wangzhonglang
Id:ICR-4269
Country:Australia
Year Published/Registered:1982
Cultivar Type:For Ornamental
Scientific Name:Camellia reticulata 'Dr. T. E. Pierson'
Species/Combination:C. reticulata
Chinese Name:
Japanese Name:
Meaning:
Synonym:
Dr T.R. Pierson Cannon, 1986, ACS., The Camellia Journal, vol.41, No.4, p.27. Orthographic error for Dr T.E. Pierson.
Pierxun Boshi Gao, Jiyin, 1998, The World's Best Camellia Cultivars, p.108. Chinese synonym for Dr. T. E. Pierson.
» English Description
ACRS, 1982, Camellia News, No.83, p.22, Reg. No.289: Originated by T.E. Pierson, Hurstville, N.S.W., Australia. A chance seedling from C.reticulata Samantha that first flowered 1980. A loosely imbricated, formal double, deep rich pink flower, 14 cm across x 5 cm deep, blooming mid-season to late. An open, upright plant with 9.5 cm x 5 cm, mid-green leaves with acuminate apex. Orthographic error: 'Dr T.R. Pierson'.