Type Image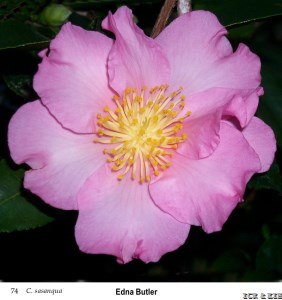 Chosen by wangzhonglang
Id:ICR-4517
Country:Australia
Year Published/Registered:1966
Cultivar Type:For Ornamental
AGM Type:
Scientific Name:Camellia sasanqua 'Edna Butler'
Species/Combination:C. sasanqua
Chinese Name:艾登纳管家
Japanese Name:
Meaning:
Synonym:
Aidengna Guanjia Gao & Zhuang, 1989, The Camellia in China, p.78, No.590. Chinese synonym for the sasanqua Edna Butler.
» English Description
ACRS., 1966, Camellia News, No.24, p.36, Reg. No.74: Originated by Arthur Butler, Castle Hill, N.S.W., Australia. A seedling of unknown parents that first flowered 1962, its soft pink, semi-double flower has silvery overtones and petaloids. The flower is 10-11 cm across, petals are crinkled and curled and the plant forms an open, upright specimen. Flowers early to late. Chinese synonym: 'Aidengna Guanjia'.