Type Image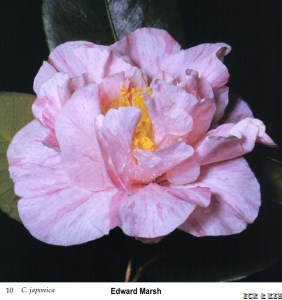 Chosen by wangzhonglang
Id:ICR-4557
Country:Australia
Year Published/Registered:1956
Cultivar Type:For Ornamental
AGM Type:
Scientific Name:Camellia japonica 'Edward Marsh'
Species/Combination:C. japonica
Chinese Name:
Japanese Name:
Meaning:
Synonym:
Aidewade Gao, Jiyin, Ltr, 22nd August, 1992. Chinese synonym for C.japonica Edward Marsh.
» English Description
ACRS., 1956, Camellia Annual, No.3, p.6, Reg. No.10: A seedling of unknown parentage, raised by E. Marsh, Victoria, Australia. It is an upright grower, producing a light pink, peppered and striped carmine bloom; incomplete double, 10-10.5 cm across with 10-14 petals and a number of petaloids. Colour plate see p.22, ACRS., 1977, Camellia News, No.66. Sport: Edward Marsh Variegated. Chinese synonym 'Aidewade'.