Type Image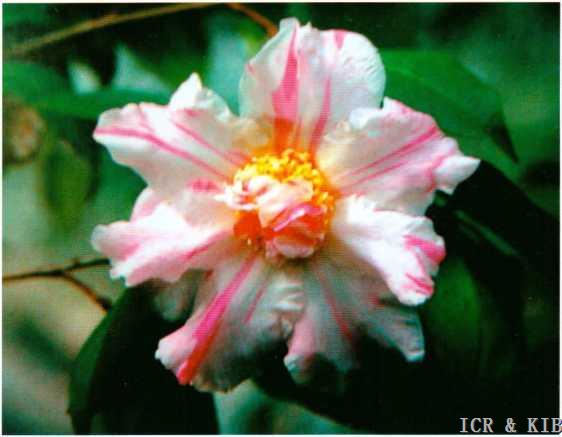 Chosen by wangzhonglang
Id:ICR-4580
Country:Japan
Year Published/Registered:1990
Cultivar Type:For Ornamental
AGM Type:
Scientific Name:Camellia 'Eikan'
Species/Combination:C. hybrid
Chinese Name:荣冠
Japanese Name:栄冠 えいかん
Meaning:Garland of laurel
Synonym:
Rongguan Gao, Jiyin, 2007, The Identification....Outstanding Camellias, p.419. Chinese synonym for the Japan C.hybrid Eikan.
» English Description
ICS., Apr.1990, Japanese Camellia Cultivar List, p.27: Large size, white with pink stripes, anemone form single. Originated in the Osaka Prefecture, Japan. A hybrid between C.japonica Tinker Bell x C.granthamiana. Named and released by Kazuo Yoshikawa in 1980s.
» Chinese Description
高继银、苏玉华、胡羡聪,2007. 《国内外茶花名种识别与欣赏》,第291页。日本大阪吉川和男培育,系红山茶'摇铃'(Tinker Bell)品种与大苞山茶(C.granthamiana)之间的杂交种花白色,每个花瓣通常有几条纵向红条纹,单瓣型至托桂型,中到大型花,外轮大花瓣9〜12枚,狭长形,边缘皱褶,中部黄色雄蕊与小花瓣混生,花朵稠密。叶片灰绿色,阔椭圆形,光亮,植株开张,生长旺盛。花期早至中。