Type Image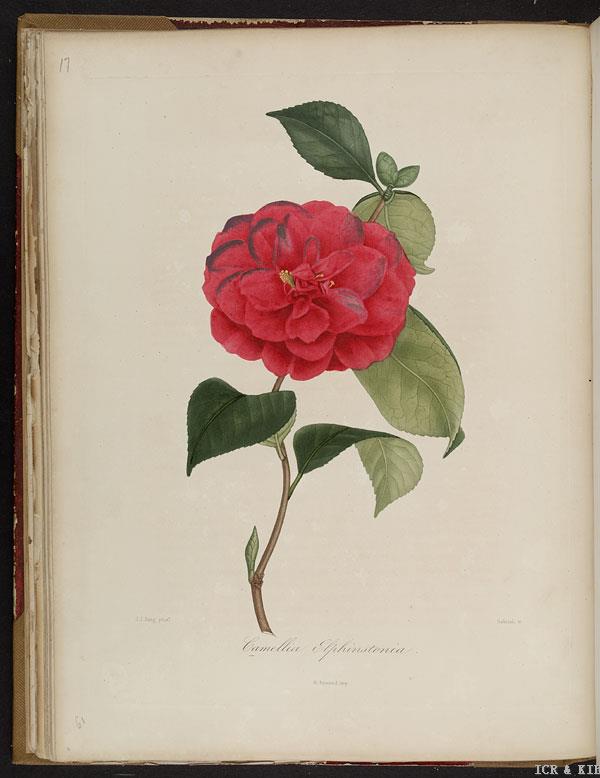 Chosen by wangzhonglang
Id:ICR-4774
Country:United Kingdom
Year Published/Registered:1830
Cultivar Type:For Ornamental
AGM Type:
Scientific Name:Camellia japonica 'Elphinstoniana'
Species/Combination:C. japonica
Chinese Name:艾菲东尼安
Japanese Name:
Meaning:
Synonym:
Elfingaston Volonte Catalogue, 1888. Orthographic error for Elphinstoniana.
Elphanstoni The Gardeners' Chronicle and Agricultural Gazette No.12, Mar.24, 1856, p.280. Orthographic error for Elphinstoniana.
Elphingstonia Buist, 1839, American Flower Garden Directory, p.240. Orthographic error for Elphinstoniana.
Elphinstone's Loudon, 1839, Hortus Britannicus. Synonym for Elphinstoniana.
Elphinstoni Jacob-Makoy, 1830, Catalogue, p.6. Booth & Chandler, 1831, Illustrations and Descriptions of Plants ..., p.13. Orthograhic error for Elphinstoniana.
10 show +
» English Description
Sweet, 1830, Hortus Britannicus, ed.2, p.74 as red. 'Miss Elphinstone's'. Leaves 8.8 cm long x 5.5 cm wide, roundish-oval, a little dentated; buds large, scales blackish­-green; flowers large, cherry red, almost poppy coloured, shaded with carmine, sometimes splashed with white, 7.5 cm across, heart arched; exterior petals large, well arranged into a cup and notched; those at the centre, small, numerous, rolled like a cornet, grouped and united into a pleasing sphere. Berlèse, 1837, Monographie, ed.1, p.94, 129. Orthographic variations: 'Elphin­stoni', Elphinstonii', 'Elphinstone's'. Orthographic errors:. 'Ephingstoniana', 'Elphistonia', 'Elfingaston', 'Elphistonii', 'Elphanstoni'. Synonyms: 'Flammeola Superba', 'Marsii', 'Gloria Mundi Nova', 'Buckliana', 'Miss Elphinstone's'.