Type Image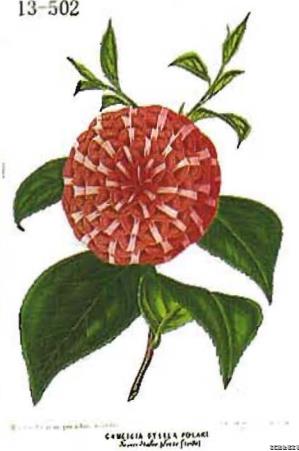 Chosen by wangzhonglang
Id:ICR-5005
Country:France
Year Published/Registered:1861
Cultivar Type:For Ornamental
AGM Type:
Scientific Name:Camellia japonica 'Etoile Polaire'
Species/Combination:C. japonica
Chinese Name:北极星
Japanese Name:
Meaning:
Synonym:
Etoile Palaire Fendig, 1953, American Camellia Catalogue. Orthographic error for Etoile Polaire.
Etoile Polaine Ludeman's Pacific Nursery Catalogue, 1895-1896, p.5. Orthographic error for Etoile Polaire.
La Stella Polare R. Società Toscana di Orticultura Bollettino, 1862. Synonym for 'Stella Polare', orthographic variant for Etiole Polaire.
Siella Polare Auguste van Geert Nursery Catalogue, No.76, 1878-1879, p.74. Orthographic error for 'Stella Polare', synonym for Etoile Polaire.
Stella Blare Peer, 1958, American Camellia Yearbook, p.56. Orthographic error for 'Stella Polare', synonym for Etoile Polaire.
3 show +
» English Description
The Floral World, 1861. No description. Jean Verschaffelt, 1861-1862, Price List, p.35: Imbricated double, full centre, crimson scarlet. Each petal marked at the centre by a white stripe. Obtained from Henderson in sale Oct. 1861. André, 1864, Plantes des Terres Bruyéres..., p.243: Very beautifully imbricated flower, carmine pink; all the petals clearly rib­boned with metallic white. Illustrated and described in L'Illustration Horticole, vol.13, 1866 under the name 'Stella Polare'. The illustration shows definite bands of rosy white on each petal, while the description reads: "The stripes clearly separate the petals into two equal parts, forming a veritable star." Rollisson's Plant Catalogue, 1877-1878 says: "Crimson, with a white bar through the centre of each petal". Van Houtte Catalogue, 1866-1867, 116:49 is different: Flower a little larger than a C.sasanqua, pale red, incurving, forming a full rose centre and then in his Catalogue, 1877-1878, 174:245: Flower sometimes pink, streaked with red, sometimes light red, imbricated, incurved, rose-form. Then in his 1882-1883, 199:254 Catalogue as 'Stella Polaire', "from Santarelli". Thus it seem that the variety described in SCCS, Camellia Nomecla­ture is the van Houtte form. The designation "Stella Polare" is Italian for the French "Etoile Polaire" or the English "Pole Star". Orthographic errors include: 'Etoile Polaine', 'Etoile Palaire'. Orthographic variants: 'Stella Polare', 'La Stella Polare'.