Type Image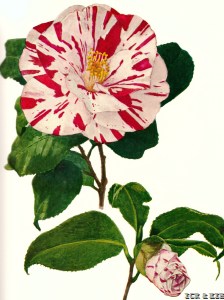 Chosen by wangzhonglang
Id:ICR-5105
Country:Japan
Year Published/Registered:1830
Cultivar Type:For Ornamental
AGM Type:
Scientific Name:Camellia 'Ezo-nishiki'
Species/Combination:Higo
Chinese Name:虾夷锦
Japanese Name:蝦夷錦 えぞにしき
Meaning:Brocade of Ezo
Synonym:
Higo-ezo-nishiki Andoh, 1971, Meika no Shōkai to Saibai, p.216. Synonym for the Higo Camellia Ezo-nishiki.
Quartet McIlhenny, 1934, List of Camellia Japonica for Sale, p.1, lists 3 forms of Camellia under this name. A coloured flower painting of this name was published on p.52 by Barren, Leonard in the Mar, 1934, Country Life, in 'The Camellia Carries On'. In 1935, McIlhenny on p.13 of List of Camellias now Growing in Camellia Garden of E.A. McIlhenny lists and describes 'Quartet' as 'Semi-double, large white, blotched and lined with light red and rose-pink. Some blooms solid red. Often four colours on the same bush'.. Later one of these forms was propagated off and listed by McIlhenny in 1942 as 'Quartette Mottled'. Its name was changed to 'Etienne de Bore' in his 1945-1946 catalogue. Another form was known as Cabeza De Vaca. In the meantime, in his 1937, 600 Varieties of Camellias McIlhenny adopted the orthography 'Quartette', a spelling that continued to be used in the USA ever since. From the viewpont of priority this orthography has no standing and 'Quartet' would be the valid form for what is a synonym for 'Ezo-nishiki' as Tricolor.
Xiayijin Gao, Jiyin, 2007, The Identification....Outstanding Camellias, p.430; Chinese synonym for the Japan C.japonica Ezo-nishiki.
Yeso-nishiki Cannon Scion Catalogue, 1963-1964, p.16. Corruption of Japanese name 'Yezo-nishiki',Different reading for Ezo-nishiki.
» English Description
Uekiya Bunsuke, 1830, Uekiya Bunsuke Hikki: Red with 6 petals. Taniguchi, 1912, Chinka Kyōkan. Higo Camellia Society List, 1956: A variegated form of the Higo Ezo. Flower pink, very irregularly there appears white variegation, 10 cm across, 10-12 petals. Stamens white. Leaf medium sized, ovate to oblong-elliptic, yellow variegation. Bears seed. Synonym: 'Higo-ezo-nishiki'.
» Chinese Description
蝦夷錦,えぞにしき,'Ezo-nishiki'(C. japonica),陈丽惠2013年《山茶花谱台湾情》第185页,【花】:白~淡粉色、深红縦~小條紋斑,半重瓣型、中輪、早~ 中生。【葉】長橢圓~橢圓、中型。立性。1859年「椿伊呂波名寄 色附」記載。
朱國棟、蔡燦玉,2011. 《台灣茶花族譜》 p.91. Ezo-nishiki 虾夷锦(Brocade of Ezo) 。 (C. japonica) 红山茶 。 1859,日本关东 。 半重瓣、白~粉白色底、深红色大小纵纹、筒蕊、中轮(8〜9cm)、偶有纯红色花、花期1〜3月、叶片扭曲、树性直立、长势强。同:三色(Sanse)(Tricolor)。花名:Ezo为日本北海道(Hokkaidō)的古代名称,因此花名应该是古代北海道产的一种锦缎。1829年,Dr. Siebold从日本引进'虾夷锦'到荷兰,1835年登录为'Tricolor'。虾夷锦一杨绍溥,1978,台湾茶花,p.69, No.98.