Type Image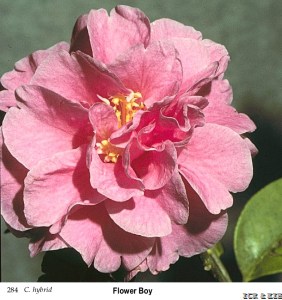 Chosen by wangzhonglang
Id:ICR-5453
Country:Australia
Year Published/Registered:1982
Cultivar Type:For Ornamental
AGM Type:
Scientific Name:Camellia 'Flower Boy'
Species/Combination:C. hybrid
Chinese Name:花童
Japanese Name:
Meaning:
Synonym:
Huatong Gao, Jiyin, 1998, The World's Best Camellia Cultivars, p.111. Chinese synonym for Flower Boy.
» English Description
ACRS., 1982, Camellia News, No.83, p.22, Reg.No.284: Originated by Edgar Sebire, Wandin North, Victoria, Australia. Seed parent C.hybrid Flower Girl, pollen parent unknown, first bloomed 1980. The spreading, open plant resembles Flower Girl. The roseform, 10 cm mauve-pink flowers are produced mid-season to late. Leaves. 9 cm x 5 cm, are lanceolate, tapering apex, dark green, fine serrations, stout petiole.