Type Image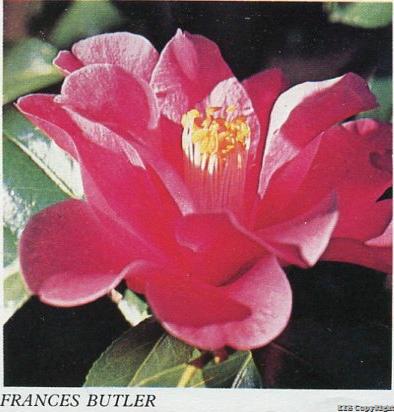 Chosen by wangzhonglang
Id:ICR-5554
Country:United States
Year Published/Registered:1959
Cultivar Type:For Ornamental
AGM Type:
Scientific Name:Camellia japonica 'Frances Butler'
Species/Combination:C. japonica
Chinese Name: 法国领班
Japanese Name:
Meaning:
Synonym:
Francis Butler Mark S. Cannon Scion Catalogue, 1962, p.4. Orthographic error for Frances Butler.
» English Description
American Camellia Yearbook, 1959, p.272, Reg. No.358: A 5 year old chance seedling of 'Magnoliiflora', (Hagoromo). Originated by R.W. Ragland, Orange, California, USA. First flowered 1955. The dark green leaves average 8.5 cm x 4 cm. The semi-double, tulip shaped flowers, soft, deep coral rose in colour are 8.5 cm across x 5 cm deep with notched petals - 9 outer petals and 5 erect, inner petals surrounding a compact column of stamens. Flowers midseason.
» Chinese Description
朱國棟、蔡燦玉,2011. 《台灣茶花族譜》 p.100. Frances Butler 法国领班 (C. japonica) 红山茶。 1959,美国加州橘郡' R.W. Ragland培育选 出。Hagoromo (羽衣)自然实生种。5年实生苗,初花1955年。半重瓣、郁金香型、深玫瑰红、中轮(8.5 x 5cm)、瓣端凹缺、柱状蕊、花期1~2月。花名:人名(法兰西丝.巴特)。 Frances Butler (法国领班)一茶花林目录,1992-2006, p.10/28, No.824.