Type Image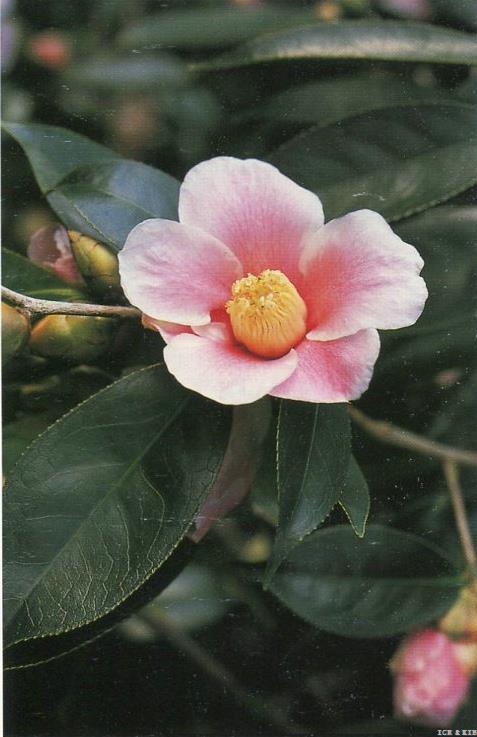 Chosen by wangzhonglang
Id:ICR-5757
Country:Japan
Year Published/Registered:1971
Cultivar Type:For Ornamental
AGM Type:
Scientific Name:Camellia 'Fukurin-wabisuke'
Species/Combination:Wabisuke
Chinese Name:覆轮佗助
Japanese Name:覆輪佗助 ふくりんわびすけ
Meaning:Bordered 'Wabisuke
Synonym:
Hukurin-wabisuke Watanabe, 1970, Kyōto Engei Kurabu, Tsubaki Tokushū, No.10, p.129. Differ­ent reading for Fukurin-wabisuke.
» English Description
Mainichi Shinbun, JCS.,1971, Tsubaki, p.119; Satō, 1975, Chūbu no Tsubaki, p.21, colour photo; Seibundō Shinkōsha, 1979, Senchinshū, p.132, colour photo, p.244, description: A soft pink, fading to very pale pink at the petal edge, cam­panulate single of 5 petals and a central column of stamens, pinched in at the apex. Flowers early to mid-season. Ovaries densely, silky tomentose. Leaves matt green, thick, narrow-ellip­tic, apices caudate, margins serrulate, petioles hirsute. Different reading: 'Hukurin-wabisuke'. A sport of Hatsukari from the Chūbu area, Japan. Named and released by Minoru Satō in 1960. See colour photo, p.262, Yokoyama & Kirino, 1989, Nihon no Chinka. Small trumpet shaped single, with cylindrical, degenerate stamens. Pink flowers margined white. Flowers early to mid-season. A pink sport of Hatsukari is called Momoiro-shōwa-wabisuke and a pink margined white is called Fukurin-wabisuke. They are identical to Hatsukari in flowering season, growth and leaf shape. Sport: Momoiro-shōwa-wabisuke.