Type Image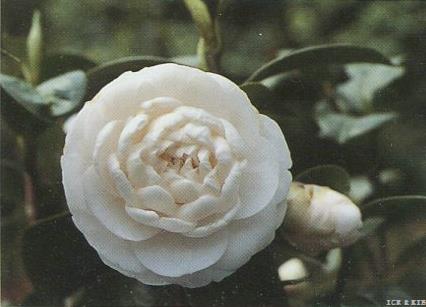 Chosen by Sueo Takano
Id:ICR-6757
Country:Japan
Year Published/Registered:1859
Cultivar Type:For Ornamental
AGM Type:
Scientific Name:Camellia japonica 'Haku-otome'
Species/Combination:C. japonica
Chinese Name:
Japanese Name:白乙女 はくおとめ
Meaning:White Maiden
Synonym:
Bleichroeder White SCCS, 1950, The Camellia. Its Culture and Nomenclature. Synonym for Haku­otome.
Hakuo SCCS., 1946, Camellias, p.13. Abbreviation for Haku-otome.
Otomeshiro Saitama Engei, 1920-1921.Different reading for 'Shiro-otome'(Haku-otome).
Shira-otome Vanderbilt, 1941, Camellia Research, II, p.7.Different reading for 'Shiro-otome' (Haku-otome).
Shire Otome Humble, 1963, Gardeners' Chronicle, p.373. Corruption of Japanese name 'Shiro­otome' (Haku-otome).
4 show +
» English Description
Kasuya, Kamegorō, 1859, Tsubaki Irohanayose Irotsuki: White, medium size. New variety. Itō, Ko'emon, 1879, Chinkashū in the section on for­mal doubles: White, medium. Tuyama, 1966, Camellia Cultivars of Japan, pl.44, p.82; Tuyama, 1968, Camellias of Japan, pl.60, p.30, description, p.103: Leaves elliptic to oblong-elliptic, a little folded along the midrib, veinlets impressed, petioles hairy. Petals deciduous. Flowers mid-sea­son to late. Formal double with no stamens. Originated in Kantō Dis­trict, Japan. See colour photos: Yokoyama & Kirino, 1989, Nihon no Chinka, p.386; Encyclopedia of Camellias in Colour, 1972, vol.I, pl.408, p.171; Seibundō Shinkōsha, 1979, Senchinshū, p.386. Syn­onyms: 'Virgin White', 'Shiro-otome', 'White Bleichroeder', 'Bleichroeder White', 'White Otome', 'Mrs Helen Reynolds'. Sports: Somekawa, Sumizome. Corruption of name: 'Kuro­zome'. Resembles: 'Shiragiku', 'Furansujiro', 'Hasumi-jiro'. Different reading: 'Shiro-otome'. Abbreviation 'Hakuo'.