Type Image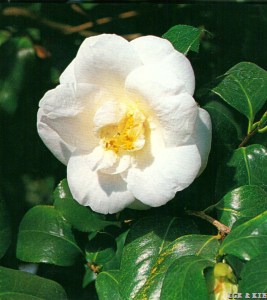 Chosen by wangzhonglang
Id:ICR-6739
Country:Japan
Year Published/Registered:1710
Cultivar Type:For Ornamental
AGM Type:
Scientific Name:Camellia japonica 'Hakugan'
Species/Combination:C. japonica
Chinese Name:白雁
Japanese Name:白雁 はくがん
Meaning:White Wild Goose
Synonym:
Hakkan Different reading for Hakugan in Zōho Chikinshō.
Hakukan (White Pheasant), Satomi, 1956, Camellia Varieties of Japan, p.6 as 'Haku-kan': White blushed pink. Large double, peony form. Midseason blooming. Satomi's description is thought to be an error for Hakugan, ie. confusion between Hakkan and Hakugan.
Shirogan Different reading for Hakugan.
Shirokari Tokio Nurseries Catalogue, 1896. (White Goose).Different reading for Hakugan.
Shiro-kiji Fendig, 1953, American Camellia Catalogue. Synonym for Hakugan.
1 show +
» English Description
Itō, Ihei, 1710, Zōho Chikinshō: White, very large, semi­double with 3-4 petal rows and cylindrical stamen cluster. Itō, Jukyū, 1739, Honzō Hanamaki'e: White, very large semi-double with 2 rows of petals, bamboo whisk stamen cluster. Kasuya, Kamegorō, 1859, Tsubaki Irohanayose Irotsuki: Description same as Itō, 1710, however in the third part of Tsubaki Irohanayose Irotsuki it is described as pinkish white, peony form flower. Itō, Ko'emon, 1879, Chinkashū with first modern description. See Tuyama, 1966, Camellia Culture of Japan, pl.88, p.146; Tuyama, 1968, Camellias of Japan, pl.68, p.34, colour photo, p.105, description: Leaves broadly elliptic to oblong, slightly folded along the midrib, venation impressed; petioles glabrous. Flower, petals rather few, outer ones large and widely opened, inner ones loosely incurved with poor stamens. White, faintly blushed pink. Flowers mid-season to late. Different readings: 'Shirokari', 'Shirogan', 'Hakkan'. Originated in Kantō area, Japan. Synonym: 'Shirokari'. See, Seibundō Shinkōsha, 1979, Senchinshū, p.111; Encyclopedia of Camellias in Colour, vol.I, 1972, pl.222, p.108.