Type Image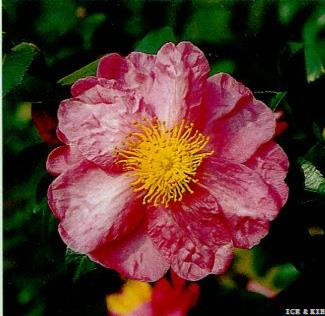 Chosen by wangzhonglang
Id:ICR-6840
Country:Japan
Year Published/Registered:1987
Cultivar Type:For Ornamental
AGM Type:
Scientific Name:Camellia sasanqua 'Hanagasa (Saitama)'
Species/Combination:C. sasanqua
Chinese Name:埼玉花笠
Japanese Name:花笠 (埼玉) はながささいたま
Meaning:Large flower hat
Synonym:
Huali Gao, Jiyin, 1998, The World's Best Camellia Cultivars, p.153. Chinese synonym for the Japanese C. sasanqua 'Hanagasa (Saitama)'.
» English Description
Hakoda, JCS., 1987, Tsubaki, No. 26, p.44; ICS., Apr.1990, Japanese Camellia Cultivar List, p.33: Large size, rose-pink double. Early blooming. Originated in the Saitama Prefecture, Japan. Nippon Tsubaki - Sasanqua Meikan, 1998, p.309 with colour photo; English translation p.217. Selected by Jisuke Minagawa from seedlings of Hanadaijin.
» Chinese Description
徐碧玉. 2007,《茶梅》,第47页。原产日本埼玉,皆川治助从'花大臣'实生苗中选育,1987年公布。花玫瑰红色,花瓣大,边缘稍起皱,10枚以上,平开的大型花,单瓣到半重瓣型,花期10~12月;叶长椭圆形,大;树形直立,长势强。