Type Image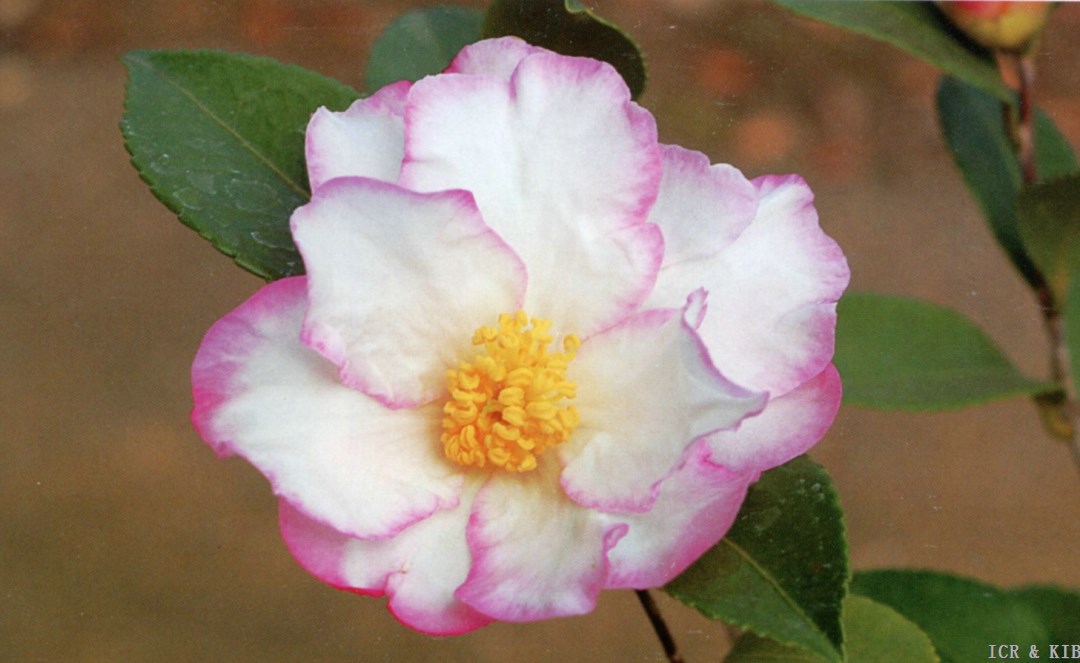 Chosen by wangzhonglang
Id:ICR-6876
Country:Japan
Year Published/Registered:2010
Cultivar Type:For Ornamental
AGM Type:
Scientific Name:Camellia sasanqua 'Hanakohime'
Species/Combination:C. sasanqua
Chinese Name:
Japanese Name:華子姫 はなこひめ
Meaning:Princess Hanako
Synonym:
HANAKO-HIME 日本ツバキ協会2021《新撰サザン力名鑑》,p114. 写文/箱田直紀,元:愛知県(稲沢市) サザン力系.
» English Description
Sasanquas, The Winter Flowers" ICS Congress, Kurume 2010, English translation p.61; White base, petal edges tinged red, semi-double, medium size, early. From Aichi (Inazawa)Latest Illustrated Book of Japanese Camellias, (Camellias of Japan), 2010, p.317 with colour photo; Leaves elliptic, medium size. Upright, vigorous growth. First sold by Kosaki Chinjuen in the 1980s.
» Japanese Description
国立歴史民俗博物館. 2009. 《冬の華・サザンカ》. P.51. 愛知產. [花]白地に紅ぼかし、弁数の少ない八重、中輪、11~12月 [葉]  、[樹]   [来歴]   文/箱田.
日本ツバキ協会2021《新撰サザン力名鑑》,p114. 愛知県(稲沢市)産, サザン力系. 花色白地に少し淡い紅色の細覆輪ぼかし、蕾は紅色 花形8-10弁の一重-弁数の少ない半八重、中輪で花径は8cm前後 開花期11月上旬-12月 花弁倒卵形で弁端は浅く凹入、花弁の先端と周縁には多少皺があり、弁縁が波曲する 雄蕊42-55本、梅蕊で花糸は淡黄色、長さ13-16mmで咲きはじめは基部から4-5mmが合着するが、咲き進むと分離して散る。葯は濃黄色 雌蕊花柱は緑白色、長さ12-13mmで先端から4-5mmが3分岐する。子房表面には絹状毛が多く、花柱は無毛 葉柄長さ4-5mm、葉柄から表面主脈にかけて褐色毛が多ぐ裏面主脈にも比較的毛が多い 葉身長楕円形の中葉、長さ5.8-6.3cm、幅2.3-2.6cm。銳尖頭で銳脚。主脈に沿って浅く中折れし、全体にゆるやかに反曲する。葉縁には片側で20-23個の尖った細鋸歯がある 葉色表面は暗緑色、側脈と網脈はやや鮮明で裏面は灰緑色 樹性立性で強い、枝はよく伸長する 来歴1980年代に稲沢市の小崎珍樹園から発売された人気品種 文献1988園芸世界* 1988大岡、1990久留米の花木、2003ぐんま、2010新図鑑* 所在 ぐんまFP、FS箱田、大島公園、歴博 文/箱田