Type Image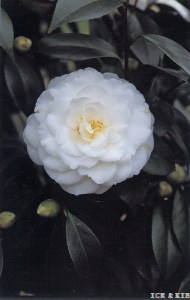 Chosen by wangzhonglang
Id:ICR-7059
Country:Japan
Year Published/Registered:1933
Cultivar Type:For Ornamental
AGM Type:
Scientific Name:Camellia japonica 'Hasumijiro'
Species/Combination:C. japonica
Chinese Name:莲见白
Japanese Name:蓮見白 はすみじろ
Meaning:Hasumi's White
Synonym:
Hasumi-haku SCCS, 1958, Camellia Nomenclature, p.43.Different reading for Hasumijiro.
Hasumishiro Satomi, 1956, Camellia Varieties in Japan. It is now considered that Hasumijiro is the correct reading.
Renkenhaku Fendig, 1953, American Camellia Catalogue.Different reading for Hasumijiro.
» English Description
Minagawa, 1933, Chinkashū; Tuyama, 1966, Camellia Cul­tivars of Japan, pl.78, p.134; Tuyama, 1968, Camellias of Japan, pl.55, p.28, description, p.101 as 'Hasumi-jiro': Leaves narrowly obovate elliptic, very shortly acuminate, a little folded along the midrib, venation impressed. Petioles glabrous. Flowers large size, white, formal double, petals broad, rounded and slightly notched at the apex, inner ones narrower, forming a cylin­drical mass. Flowers mid-season to late. For colour plates see Encyclopedia of Camellias in Colour, vol.I, 1972, pl.412, p.173 and Seibundō Shinkōsha, 1979, Senchinshū, p.114. Originated in Kantō, Japan. Resembles Shiragiku. The name has been published under different readings: 'Hasum­ishiro' and 'Hasumihaku'.
» Chinese Description
朱國棟、蔡燦玉,2011. 《台灣茶花族譜》,p.120.
Hasumijiro 莲见白(Hasumi's White)。(C.japonica)红山茶。1933,日本埼玉县。
完全形、白色、中〜大轮、花期1〜3月、树性直立、长势强。类似Shiragiku(白菊)。