Type Image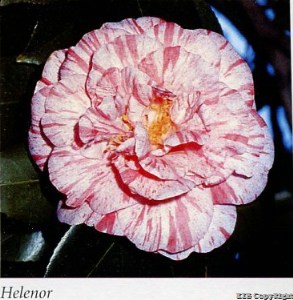 Chosen by wangzhonglang
Id:ICR-7260
Country:Australia
Year Published/Registered:1848
Cultivar Type:For Ornamental
AGM Type:
Scientific Name:Camellia japonica 'Helenor'
Species/Combination:C. japonica
Chinese Name:海利诺
Japanese Name:
Meaning:
Synonym:
Guilfolius Halena Lindo Nursery Price List,1940-1941. Synonym for Helenor.
Guilfolius Halleana Vanderbilt, 1940, Camellia Research, p.4. Synonym for Helenor.
Guilfolius Hallena Doty & Doerner Catalogue, 1942, p.24. Synonym for Helenor.
Guilfolius Hellena Lindo Nursery Catalogue, 1948, p.5. Synonym for Helenor.
Guilfoyle's Helen Vanderbilt, 1941, Camellia Research, II, p.3. Synonym for Helenor.
13 show +
» English Description
Botanical Society of Sydney, 1848. No description. Guilfoyle Nursery Catalogue, 1866. No description. Taylor & Sangster Nursery Catalogue, 1877 stated that it was Guilfoyle's seedling and described it as "carnation striped". The present variety of this name has a light pink ground, heavily flecked and striped deep rose-pink. It is a rose form double, showing a few confused petals at the centre when fully open. Medium size, about 9 cm across. Midseason blooming. Orthographic errors and synonyms: 'Guilfolius Halleana', 'Guilfoyle's Helena', 'Guilfolius Hellena', 'Hellenor', 'Hellennor', 'Heleanor', 'Helemer', 'Helenor'(Guil­foyles), 'Giulfoyle's Helene', 'Guilfolius Halena', 'Light Helenor'. Because of similar colours and form, Helenor has been confused with Roma Risorta and, to some extent, with Optima. For colour photo see p.48, 94, Macoboy, 1981, The Colour Dictionary of Camellias and on p.21, ACRS, 1977, Camellia News, No.66. Sports: 'Helenor Rosea', Tabbs, High Jinks, Red­grove. Chinese synonym 'Hailunnuo'.
» Chinese Description
朱國棟、蔡燦玉,2011. 《台灣茶花族譜》,p.122.
Helenor 海利诺(C. japonica)红山茶。1848,澳大利亚。完全形、淡粉底、深玫瑰粉斑点及条纹、中轮(9cm)、花期1〜2月、花期末会露出花芯。突变种:Helenor Rosea、Tabbs、Redgrove。
Helenor (色彩动人)一茶花林目录,1992-2006,p.12/28, No.1299.
Helenor (海伦娜)一张永熙(Camellia Chang),2005,苗栗通霄,你会喜欢茶花园.