Type Image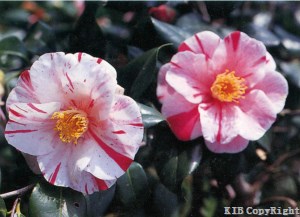 Chosen by wangzhonglang
Id:ICR-7402
Country:Japan
Year Published/Registered:1859
Cultivar Type:For Ornamental
AGM Type:
Scientific Name:Camellia japonica 'Higurashi (Kantō)'
Species/Combination:C. japonica
Chinese Name:曰暮(关东)
Japanese Name:日暮(関東) ひぐらし(かんとう)
Meaning:Nightfall
» English Description
Kasuya, Kamegorō, 1859, Tsubaki Irohanayose Irotsuki as one of the three trees, with Moshio and Wakanoura; Itō, Ko'emon, 1879, Chinka Shū: White striped pink, medium double. See Yokoyama & Kirino, 1989, Nihon no Chinka, p.339; Tuyama, 1968, Camellias of Japan, pl.347, p.176. Encyclopedia of Camellias in Colour, vol.I, 1972, pl.356. Seibundō Shinkōsha, 1979, Senchinshū, p.124: Leaves elliptical, suddenly acuminate, margins crenate serrulate, reflexed and undulate. Flowers semi-double, palest pink, sometimes suffused soft pink, narrowly striped rosy carmine, white margined (carmine 21). Petals recurving at apex and a lit­tle wrinkled. Flowers mid-season. Different reading: 'Higure'. Originated in Kantō District, Japan. Chinese synonym 'Rimu'.
» Chinese Description
朱國棟、蔡燦玉,2011. 《台灣茶花族譜》,p.124.
Higurashi 曰暮(关东)(Nightfall)。(C.japonica)红山茶。1859,日本江户。
半重瓣、白~淡粉底、红色纵纹、筒蕊、中〜大轮、花期1〜3月、树性直立、生长缓慢。