Type Image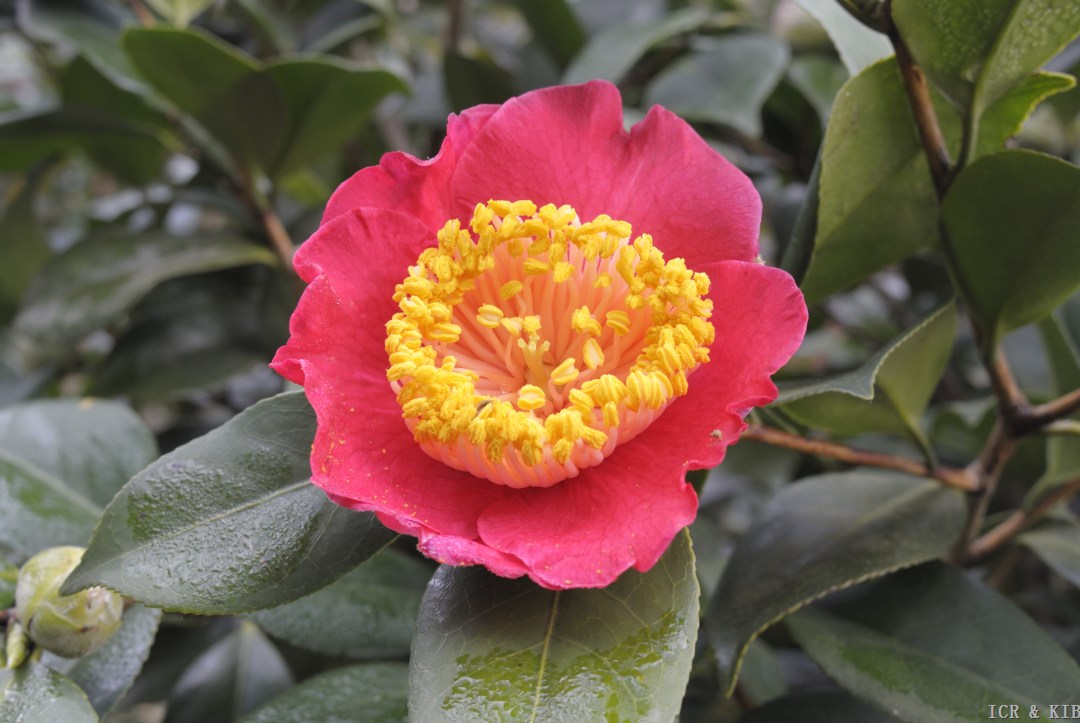 Chosen by Sueo Takano
Id:ICR-7533
Country:Japan
Year Published/Registered:1912
Cultivar Type:For Ornamental
AGM Type:
Scientific Name:Camellia 'Hiodoshi'
Species/Combination:Higo
Chinese Name:绯威
Japanese Name:緋威 ひおどし
Meaning:Scarlet menace
Synonym:
Hidoshi Mark S. Cannon Scion Catalogue, 1963-1964, p.7. Corruption of the Japanese name Hiodoshi.
Hiodashi John Waterer Sons & Crisp Catalogue, 1965-1966. Corruption of the Japanese name Hiodoshi.
Hi-odoshi Different reading for Hiodoshi.
» English Description
Taniguchi, 1912, Chinka Kyōkan: Scarlet single. Seibundō Shinkōsha, 1979, Senchinshū, p.123, colour photo, p.240: Scarlet, Higo form, 10 cm across, 6-9 petals; stamens about 120 in an open, spreading burst, white filaments. Higo Camellia, 2000, Franco Ghirardi : It has 5-7 petals which bloom scarlet and then turn violet with age, it has between 120-140 relatively small stamens with white filaments the same colour as the pistil which is divided into 3 parts, the leaves are pointed and contorned and mesure 4 x 8 cm. Different reading: 'Hi­odoshi'. Originated in Kumamoto Prefecture, Japan. Chinese synonym 'Feiwei'.
» Chinese Description
高继银、苏玉华、胡羡聪,2007. 《国内外茶花名种识别与欣赏》,第116页。日本熊本一带,属肥后茶(Higo)类。花红色至鲜艳的红色,单瓣型,巨型花,外轮大花瓣6〜9枚,平铺,边缘略呈波浪状,中部有100多枚带有金黄色花药的散射状雄蕊,花量中等。叶片浓绿色,长椭圆形,肥厚,植株开张,枝条匍匐,生长旺盛。花期中至晚。