Type Image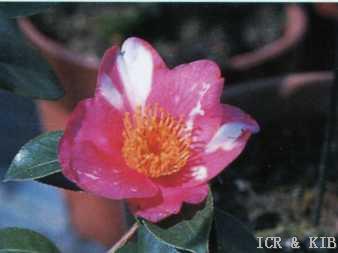 Chosen by wangzhonglang
Id:ICR-7832
Country:Japan
Year Published/Registered:1972
Cultivar Type:For Ornamental
AGM Type:
Scientific Name:Camellia rusticana 'Hoshihime'
Species/Combination:C. rusticana
Chinese Name:
Japanese Name:星姬 ほしひめ
Meaning:
Synonym:
Hoshimusume The old name for Hoshihime.
» English Description
Encyclopedia of Camellias in Colour, vol.I, 1972, pl.105, p.70, description, p.306: Small, red single with sparse white spots, 7-9 petals cleft at the apex and a large, central, spreading stamen cluster with yellow anthers. Occasionally blooms occur with white moiring or white margins. Early blooming. Leaves elliptic, shallowly serrate, apex acute, mid-green, petioles hirsute. Originated in Toyama Prefecture, Japan. Named and released by Minoru Takeuchi in 1959. This cultivar was first named 'Hoshimusume', but was changed to Hoshihime to prevent confusion with an existing 'Hoshimusume'. See: Seibundo Shinkōsha, 1979, Senchinshū, p.139, colour photo; Yokoyama & Kirino, 1989, Nihon no Chinka, p.238.