Type Image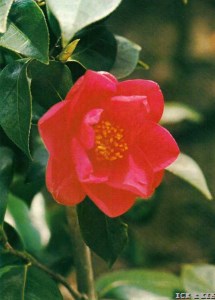 Chosen by wangzhonglang
Id:ICR-8427
Country:Japan
Year Published/Registered:1974
Cultivar Type:For Ornamental
AGM Type:
Scientific Name:Camellia rusticana 'Itsukamachi'
Species/Combination:C. rusticana
Chinese Name:五日町
Japanese Name:
Meaning:Itsuka Town
Synonym:
Itsuka Town Camellias, Y.C. Shen, 2009, p.212 with colour photo; Translation of the valid name Itsukamachi.
Itsukachō Different reading for Itsukamachi.
Itsumackii Forrest, 1985, Trees and Shrubs Cultivated in Ireland. Corruption of the Japanese name Itsukamachi.
以津小町 茶花林目录,1992-2006, p.13/28, No.1366.
依舒卡玛奇 新竹市茶花产销班目录,2002-2006, p.58,I16.
» English Description
Nuccio's Nursery Catalogue, 1974-1975: Brilliant red semi­double. Encyclopedia of Camellias in Colour, vol.II, 1978, pl.370, p.153, description, p.252; Sei­bundō Shinkōsha, 1979, Senchinshū, p.201: Bright red semi-double, 11-12 petals, edges incurved to form a point at the apex, resembling a star. Short, compact stamen column with yel­low anthers and pinkish filaments. Leaves medium sized, elliptic to long ovate, apex acute, sharp, shallow, regular serrations, dull green. Petiole hairy. Medium, bushy rounded growth. Mid-season blooming. Originated in Nagaoka City, Niigata Prefecture, Japan. Different read­ing: 'Itsukachō'. Sport: Itsukamachi Variegated. Corruption of name: 'Itsumackii'.
» Chinese Description
朱國棟、蔡燦玉,2011. 《台灣茶花族譜》,p.134.
Itsukamachi 五日町(Itsuka Town)。(C. rusticana)雪茶。1974,日本新泻县。半重瓣、亮丽红、中轮、柱状蕊、花瓣约11~12枚、花期1~2月。不同读音:ItsukachS。花名:日本城镇名称。拼音错误:Ltsukamachi (伊楚卡曼)。别名:Itsuka Town (五日镇)。
Itsukamachi (以津小町)一茶花林目录,1992-2006, p.13/28, No.1366.
ltsukamachi (依舒卡玛奇)—新竹市茶花产销班目录,2002-2006, p.58,I16.