Type Image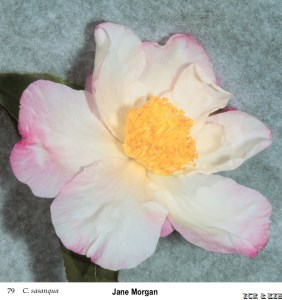 Chosen by wangzhonglang
Id:ICR-8572
Country:Australia
Year Published/Registered:1967
Cultivar Type:For Ornamental
AGM Type:
Scientific Name:Camellia sasanqua 'Jane Morgan'
Species/Combination:C. sasanqua
Chinese Name:珍妮摩根
Japanese Name:
Meaning:
Synonym:
Zhenni Mogen Gao & Zhuang, 1989, The Camellia in China, p.79, No.613. Chinese synonym for the Australian C.sasanqua Jane Morgan.
» English Description
ACRS., 1967, Camellia News, No.28, p.4, Reg. No.79: Originated by Mr C.E. Morgan, Lindfield, N.S.W., Australia from seed supplied by Mrs Manamey, Killara. The plant has an upright, dense habit of growth, producing early, 7.5 cm diameter flowers, white with rose-pink edged petals. The leaves are dark green, narrow, 6 cm long. See Macoboy, 1981, The Colour Dictionary of Camellias, p.175. Chinese synonym: 'Zhenni Mogen'.