Type Image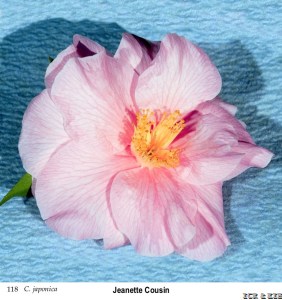 Chosen by wangzhonglang
Id:ICR-8670
Country:Australia
Year Published/Registered:1970
Cultivar Type:For Ornamental
AGM Type:
Scientific Name:Camellia japonica 'Jeanette Cousin'
Species/Combination:C. japonica
Chinese Name:珍妮特
Japanese Name:
Meaning:
Synonym:
Janette Cousins Cannon, 1973, ACS., The Camellia Journal. Orthographic error for Jeanette Cousin.
Zhennite Gao, Jiyin, 1998, The World's Best Camellia Cultivars, p.48. Chinese synonym for Jeanette Cousin.
» English Description
ACRS., 1970, Camellia News, No.40, p.26, Reg. No.118: Originated by R.T.C. Cousin, Pakenham East, Victoria, Australia and first flowered 1969. The plant has an upright, dense, vigorous growth habit and produces, in mid-season, bright pink semi-double flowers, 13-15 cm across. The small, 8 cm x 3.8 cm leaves are olive green with acuminate apex and prominent veining. Orthographic error: 'Janette Cousins'.