Type Image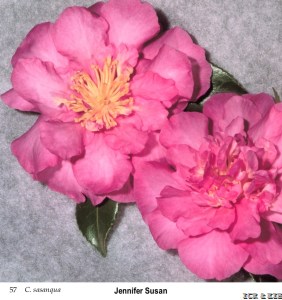 Chosen by wangzhonglang
Id:ICR-8695
Country:Australia
Year Published/Registered:1963
Cultivar Type:For Ornamental
AGM Type:
Scientific Name:Camellia sasanqua 'Jennifer Susan'
Species/Combination:C. sasanqua
Chinese Name:詹尼弗苏珊
Japanese Name:
Meaning:
Synonym:
Niuzinü. (Heifer) Gao & Zhuang, 1989, The Camellia in China, p.78, No.597. Synonym for the C.sasanqua Jennifer Susan.
Snowcloud (C.sasanqua). Camellia Grove Catalogue, St. Ives, NSW, Australia, 1997, p.21: Medium size, semi-double white with a touch of pink on some petal edges. Vigorous, upright growth. Early blooming sport of Jennifer Susan. Note: Name is illegal according to the Nomenclature Code, as being too similar to Snow Cloud. See ICS Register, p.1736. C.Aust., Camellia News, Autumn 2010, p.7 with colour photo; Regn No.605-N.
Vanity Fair Hazlewood Nursery Catalogue, 1962. Erroneous name for the sasanqua Jennifer Susan.
珍尼佛苏珊 陈丽惠2013年《山茶花谱台湾情》第215页。
» English Description
ACRS., 1963, Camellia News, No.12, p.25, Reg. No.57: (Previously invalidly catalogued as 'Vanity Fair') A chance seedling raised by Dr A.L. Ducker, Lindfield, N.S.W., Australia. It is a slow, upright grower. First bloomed 1959. The flower is an informal double with curled petals, 7.5 cm across. Pale pink. Early flowering. Chinese synonym: 'Niuz­inü'. Note; This cultivar has later proved to be one of the strongest growing sasanquas.
» Chinese Description
珍尼佛.蘇珊,Jennifer Susan(C. sasanqua),陈丽惠2013年《山茶花谱台湾情》第215页,粉红、半重瓣、中輪、早花,1963年美國發表。
徐碧玉. 2007,《茶梅》,第67页。澳大利亚A.L.Ducker博士从实生苗中选育,1963年公布。花色浅玫瑰红,花瓣圆,35枚左右,初开时中心呈珠状,盛开后瓣缘稍反卷,花径8厘米左右,玫瑰重瓣型到完全重瓣型,花期11月中旬至翌年1月下旬;叶长椭圆形,浓绿,齿粗;树形较开张,长势旺。