Type Image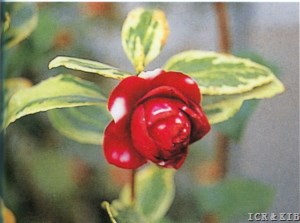 Chosen by wangzhonglang
Id:ICR-9171
Country:Japan
Year Published/Registered:1989
Cultivar Type:For Ornamental
AGM Type:
Scientific Name:Camellia rusticana 'Kagoshima-benten'
Species/Combination:C. japonica
Chinese Name:鹿儿岛弁天
Japanese Name:鹿児島弁天 かごしまべんてん
Meaning:Kagoshima Goddess
» English Description
Yokoyama & Kirino, 1989, Nihon no Chinka, p.317, colour photo and description: Medium size, deep red, formal double, occasionally show­ing an abortive stamen or petaloid in the centre when fully opened, with 9-10 rows of imbri­cated, rounded petals, pine cone form. Blooms late. Leaves dark green, with genetic variegation of pale, yellowish green, oblanceolate, apices acute, margins serrulate. Originated in the Niigata Prefecture, Japan. A sport of Kagoshima. Named and released by Tokuji Ōoka in 1980.
» Chinese Description
朱國棟、蔡燦玉,2011. 《台灣茶花族譜》,p.145.
Kagoshima-benten 鹿儿岛弁天(Kagoshima Goddess)。(C. japonica)红山茶。1980,日本新泻县。大冈德治命名发表。Kagoshima (鹿儿岛)的斑叶枝变种。完全〜松果形、深红色、白斑、偶有纯红色花、中轮、全开时偶尔会出现雄蕊或瓣状蕊、9〜10重复瓦状列瓣、花期3月、浓绿色叶片、浅黄绿色斑纹。