Type Image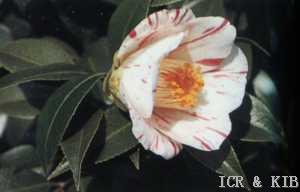 Chosen by wangzhonglang
Id:ICR-9298
Country:Japan
Year Published/Registered:1976
Cultivar Type:For Ornamental
AGM Type:
Scientific Name:Camellia japonica 'Kantō-kyōnishiki'
Species/Combination:C. japonica
Chinese Name:京锦
Japanese Name:関東京錦 かんとうきょうにしき
Meaning:Kyoto Brocade
» English Description
Shufu-no-Tomo-sha, 1976, Tsubaki to Sazanka, p.29, colour photo: Medium size, single, 6-7 large petals, white to pale blush pink, pep­pered and streaked with red. Central stamen cylinder with golden anthers, pale, cream fila­ments, united in the lower half. Leaves rather small, elliptic, lustrous mid-green, apex tapered acuminate, margins serrulate, veins distinct. The variegated camellia from Kantō, Tokyo, Japan. Said to be a seedling of Kokinran. Resembles Kaza-ore. Synonym: 'Kyōnishiki'. See: Seibundō Shinkōsha, 1979, Senchinshū, p.40, colour photo; Yokoyama & Kirino, 1989, Nihon no Chinka, p.259, colour photo.
» Chinese Description
朱國棟、蔡燦玉,2011. 《台灣茶花族譜》,p.156.
Kydnishiki 京锦(Kyoto Brocade)。(C. japonica)红山茶。1949,日本。Kokinran (古金兰)自然实生种。单瓣、喇叭形、花瓣6〜7枚、白〜极淡粉、红色条纹、斑点、筒蕊、中轮、花期3 月、金色花药、淡乳白色花丝、树性直立。别名:Kanto-kyonishiki (关东京锦)。