Type Image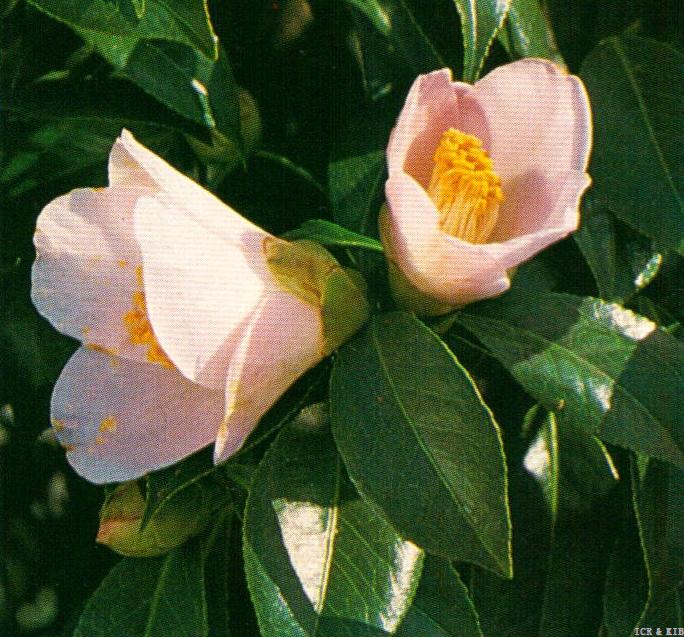 Chosen by wangzhonglang
Id:ICR-9300
Country:Japan
Year Published/Registered:1976
Cultivar Type:For Ornamental
AGM Type:
Scientific Name:Camellia japonica 'Kantō-tsukimiguruma'
Species/Combination:C. japonica
Chinese Name:
Japanese Name:関東月見車 かんとうつきみぐるま
Meaning:Moon viewing carriage from Kantō
Synonym:
Kantu Gao, Jiyin, 2007, The Identification....Outstanding Camellias, p.426; Chinese synonym for the Japan C.japonica Kantō-tsukimiguruma.
» English Description
Shufu-no-Tomo-sha, 1976, Tsubaki to Sazanka, p.29, colour photo: Seibundō Shinkōsha, 1979, Senchinshū, p.40, colour photo, p.209, description: Small size, tubular to campanulate, soft pink, single with compact, stamen centre. Blooms mid-season to late. Leaves olive green, elliptic to obovate, base cuneate, apex tapering acuminate, margins serrulate. See colour photos: Katei Gahō, ed., 1984, Chabana Koyomi, vol.1, Tsubaki, p.49; Yokoyama & Kirino, 1989, Nihon no Chinka, pp.124, 125. Originated in Kantō district, Japan. Synonyms: 'Tsukimiguruma', 'Momo-wabisuke'. See Andoh, 1971, Tsubaki, Meika no Shōkai to Saibai, pp.25 & 210. Chinese synonym 'Kantu'.
» Chinese Description
朱國棟、蔡燦玉,2011. 《台灣茶花族譜》,p.270. Tsukimi-guruma 月见车(Moon Viewing Carriage)。(C. japonica)红山茶。1966,日本埼玉县。单瓣、筒〜喇叭形、极淡桃色、花瓣5枚、筒蕊、小轮、花期1〜3月、树性直立。别名:Tsukimi-guruma-kanto月见车(关东)。月见车一杨绍溥,1978,台湾茶花,p.74, No.158.