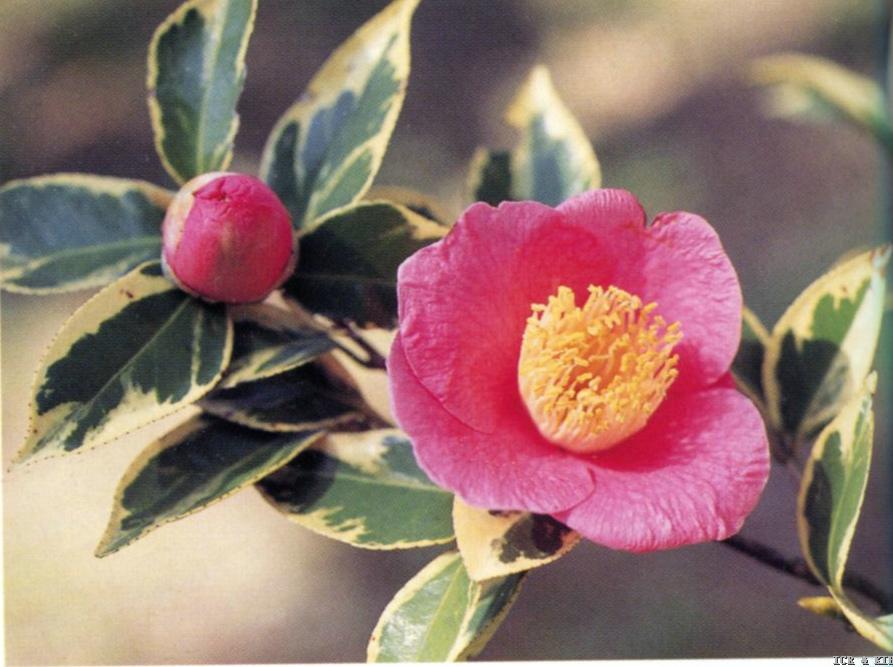 Type Image Chosen by wangzhonglang
Id:ICR-9324
Country:Japan
Year Published/Registered:1963
Cultivar Type:For Ornamental
Scientific Name:Camellia japonica 'Karabenten'
Species/Combination:C. japonica
Chinese Name:唐弁天
Japanese Name:唐弁天 からべんてん
Meaning:Chinese beauty
Synonym:
Kankō (Winter Sun), Satomi, 1956, Camellia Varieties of Japan: Synonym for Karabenten.
Tōbenten Watanabe, 1960. Kyōto Engei Kurabu, Tsubaki Tokushū, No.1, p.65.Different reading for Karabenten.
唐办天 杨绍溥,1978,台湾茶花,p.71, No.116.
» English Description
Satō, 1963, Chūbu Tsubaki Kyokai, ed. Tsubaki Meikan: Red single, variegated leaves. See colour plates: Encyclopedia of Camellias in Colour, vol.I, 1972, pl.449, p.184; Satō, 1975, Chūbu no Tsubaki, p.34; Shufu-no-Tomo-sha, 1976, Tsubaki to Sazanka, p.48; Yokoyama & Kirino, 1989, Nihon no Chinka, p.153; Seibundō Shinkōsha, 1979, Senchinshū, p.38, description, p.208: Red, campanulate single of 5 large petals, widely opening with promi­nent, stamens cluster. Foliage mid-green with clear, creamy variegation, irregularly around the margins, distorting the leaf shape. Originated in Chūbu, Japan. Synonym: 'Kankō'.
» Chinese Description
朱國棟、蔡燦玉,2011. 《台灣茶花族譜》,p.147.
Karabenten 唐弁天(Chinese beauty)。(C. japonica)红山茶。1931,日本爱知县。单瓣、杯状、桃红色、筒蕊、小轮、花期12~2月、树性稍横张、弱、乳白色覆轮锦叶、叶缘偶有不规则变形。同种异名:Kanko(寒晃)。
唐办天一杨绍溥,1978,台湾茶花,p.71, No.116.