Type Image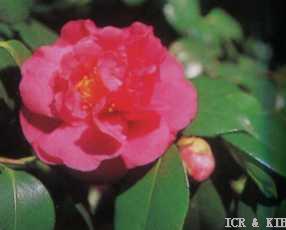 Chosen by wangzhonglang
Id:ICR-9332
Country:Japan
Year Published/Registered:1739
Cultivar Type:For Ornamental
AGM Type:
Scientific Name:Camellia japonica 'Karajishi'
Species/Combination:C. japonica
Chinese Name:
Japanese Name:唐獅子 からじし
Meaning:Chinese lion
Synonym:
Chibakō Iwasaki, 1829, Honzō Zufu.Different reading for 'Senyōkō' as synonym for Karajishi.
Karashishi Different reading for Karajishi.
» English Description
Itō, Jukyū, 1739, Honzō Hanamaki'e, vol.15; Kasuya, Kamegorō, 1859, Tsubaki Irohanayose Irotsuki: Large, deep, rose red, peony with thick petals. See the following colour plates: Tuyama, 1966, Camellia Cultivars of Japan, pl.116; Encyclopedia of Camellias in Colour, vol.I, 1972, pl.169, p.92; Seibundō Shinkōsha, 1979, Senchinshū, p.38, description, p.208: Large, 12 cm across, deep rose-pink, peony form with 2-3 rows of large, emarginate, guard petals, totalling 20-15, the centre consishng of a mixture of fascicles of stamens among small, erect, folded petals. Leaves broad-ovate, mid-green, apex blunt acute, margins sharply serrate, venation impressed. Originated in the Kantō District, Japan. Resembles Benibotan. Different reading: 'Kara-jishi', 'Kara-shishi'. Iwasaki, 1829, Honzō Zufu lists the name as a synonym for 'Chiba-kō'.