Type Image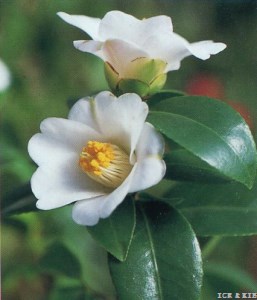 Chosen by wangzhonglang
Id:ICR-9391
Country:Japan
Year Published/Registered:1978
Cultivar Type:For Ornamental
AGM Type:
Scientific Name:Camellia japonica 'Kasenzan'
Species/Combination:C. japonica
Chinese Name:花仙山
Japanese Name:花仙山 かせんざん
Meaning:Mount Kasen
Synonym:
Fumaikō Seibundō Shinkōsha, 1979, Senchinshū, p.207. Synonym for Kasenzan.
Mount Kasen Camellias, Y.C. Shen, 2009, p.82 with colour photo; Synonym for Kasenzan.
» English Description
Encyclopedia of Camellias in Colour, vol.II, 1978, pl.313, p.132, description, p.244: Very small size, campanulate, pale pink, single of 5 petals, slightly emarginate, with short stamen column, white filaments, yellow anthers. Blooms mid-season to late. Leaves small, elliptic to narrowly-elliptic, apex tapering acuminate, margins crenate-ser­rate, matt, mid-green. Originated in Matsu'e City, Shimane Prefecture, Japan. Named and released by Tomohisa Arikawa in 1970. Synonym: 'Fumaikō'. See also colour photo: Seibundō Shinkōsha, 1979, Senchinshū, p.36; Yokoyama & Kirino, 1989, Nihon no Chinka, p.75, and p.48, Katei Gahō, ed., 1984, Chabana Koyomi, vol. 1, Tsub­aki. Fumaikō was the name of Matsudaira, the great Japanese master of the tea ceremony.
» Chinese Description
朱國棟、蔡燦玉,2011. 《台灣茶花族譜》,p.147.
Kasenzan花仙山(Mount Kasen)。(C. japonica)红山茶。1970,日本玉汤町民家栽培种,有川智久命名发表。单瓣、喇叭形、极淡粉、花瓣5枚、迷你~小轮、筒蕊、黄花药、白花丝、花期1~3月。同种异名:Fumaiko(不昧光)。