Type Image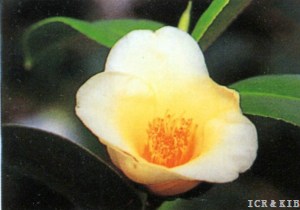 Chosen by wangzhonglang
Id:ICR-9587
Country:Japan
Year Published/Registered:1990
Cultivar Type:For Ornamental
AGM Type:
Scientific Name:Camellia 'Kichō'
Species/Combination:C. japonica × C. chrysantha
Chinese Name:黄调
Japanese Name:黄調 きちょう
Meaning:Yellow tone
Synonym:
Yellow Tone Camellias, Y.C. Shen, 2009, p.72 with colour photo; Synonym for Kichō.
» English Description
JSC, Japan Camellia, No.36, Oct.1990, p.4: A seedling of C.japonica 'Haku-arashi-saga' x C.chrysantha. Flower colour is pale yellow, of the same degree as Shokō, pale pink in the bud. Size of flower, 5 cm across, single, cup-shaped. Leaves similar to C.japonica, 13 cm long x 5 cm wide. Blooms early. Proved fertile. Originated by Tadao, Yamaguchi, Tsurugi-chō, Ishikawa Prefecture, Japan. Named and released in 1990.
» Chinese Description
朱國棟、蔡燦玉,2011. 《台灣茶花族譜》,p.149.
Kicho黄调(Lucky Omen)。(C. hybrid)山茶杂交种。1990,曰本石川县,山口湛夫(Yamaguchi Tadao)。C. japonica'Hatsu-arashi(saga)'初岚(嵯峨)x C. chrysantha (金花茶)。单瓣、杯型、淡黄色、花瓣8~9枚、跟'Shoko'(初黄)差不多、花蕾淡粉红色、迷你(4~5cm)、花期12~2月、叶片类似山茶。