Type Image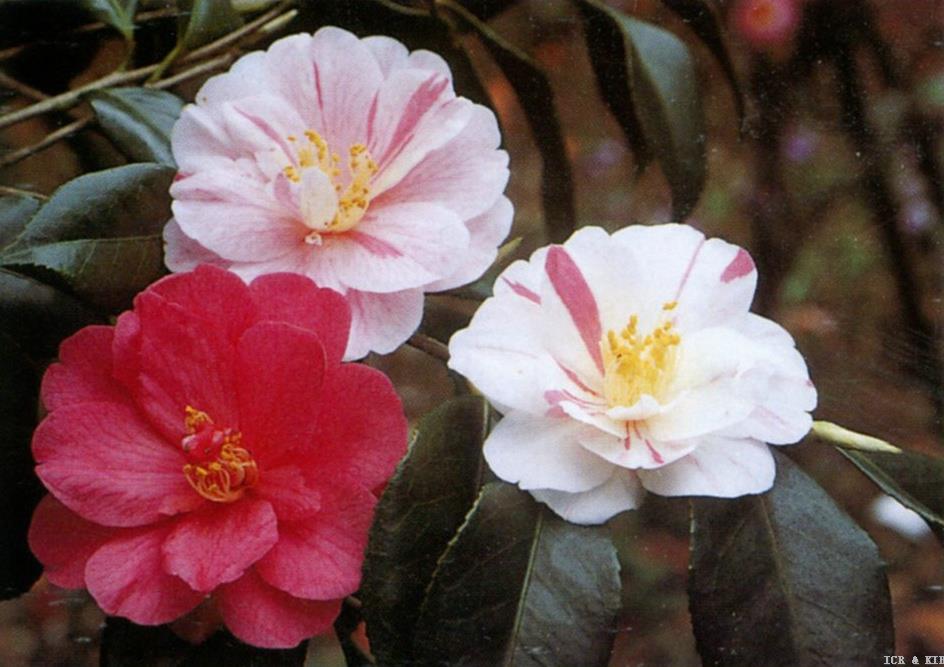 Chosen by Sueo Takano
Id:ICR-9971
Country:Japan
Year Published/Registered:1859
Cultivar Type:For Ornamental
AGM Type:
Scientific Name:Camellia rusticana 'Komomiji'
Species/Combination:C. rusticana
Chinese Name:小红叶
Japanese Name:小紅葉 こもみじ
Meaning:Dwarf Maple
Synonym:
Little Maple Hazlewood & Jessep, 1972, Checklist - Camellia Cultivars from Nursery Catalogues, p.139. Synonym for Komomiji.
Shōmomiji Sakata, T. and Co. Catalogue, 1938 as 'Shō Momiji'.Different reading for Komomiji.
Xiaohongye Gao, Jiyin, 2007, The Identification....Outstanding Camellias, p.406; Chinese synonym for the Japan C.japonica Komomiji.
» English Description
Kasuya, Kamegorō, 1859, Tsubaki Irohanayose Irotsuki, in sec­tion on double flowers: Medium size, red streaks on white . See: JCS., 1969, Tsubaki, No.7, p.36. Itō, Ko'emon, 1879, Chinkashū: Medium size, white streaked pink, double. See colour pl.: Adachi, 1960, Camellia. Its Appreciation and Artistic..., p.92; Tuyama, 1966, Camellia Cultivars of Japan, pl.6; Tuyama, 1968, Camellias of Japan, pl.346, p.175, descrip. p.193; Encyclopedia of Camel­lias in Colour, vol.I, 1972, pl.340; Seibundō Shinkōsha, 1979, Senchinshū, p.58, description, p.215; Leaves elliptic, apices acuminate, venation impressed, margins coarsely serrate; petioles very hairy. Flowers semi-double, white striped rosy red (Carmine 21) or often pink, veined deeper pink and narrowly margined white, or paler pink, or, sometimes self rosy red. Stamens poor and irregular. Blooms mid-season to late. Dense, spreading growth. Different reading: 'Shō­momiji'. Sport: Fukurin-ikkyū. This is a very variable camellia with all the colour sports appearing on the one plant. Originated in the Kantō area, Japan. Chinese synonym 'Xiaohongye'.