Type Image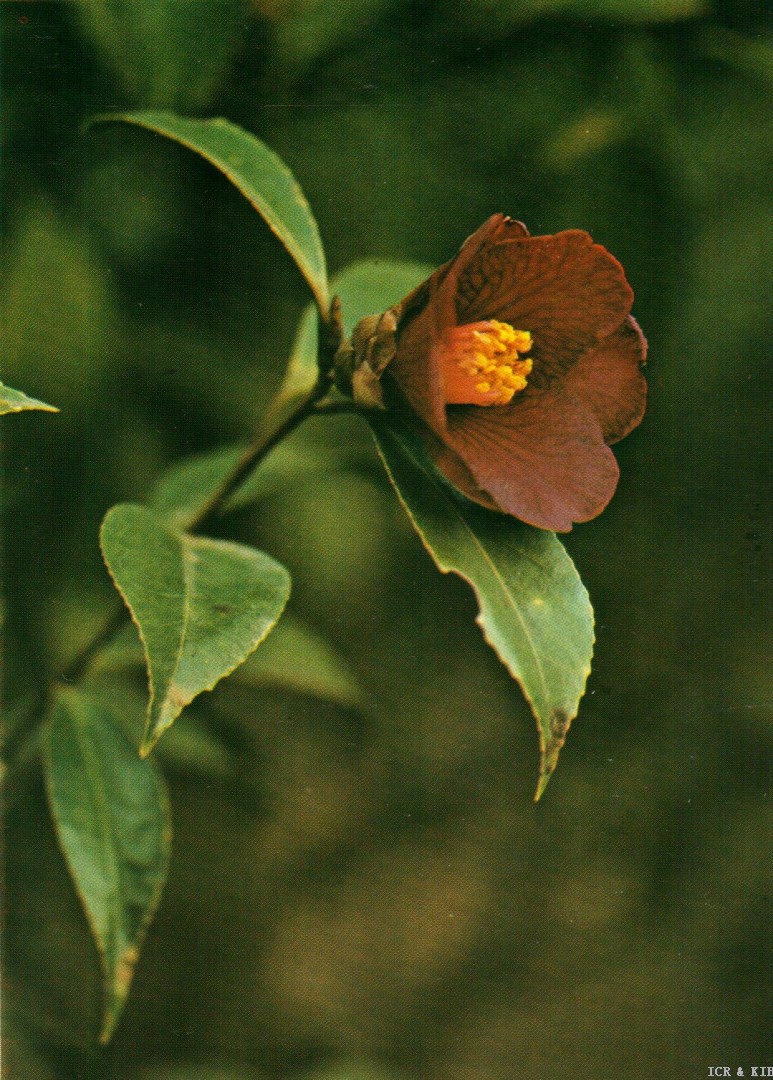 Chosen by wangzhonglang
Id:ICR-10019
Country:Japan
Year Published/Registered:1937
Cultivar Type:For Ornamental
AGM Type:
Scientific Name:Camellia japonica 'Kon-wabisuke'
Species/Combination:C. japonica
Chinese Name:绀佗助
Japanese Name:紺佗助 こんわびすけ
Meaning:Dark Blue Wabisuke
Synonym:
Fuyajō Chūgai Nursery Catalogue, 1936-1937, p.25: Blackish red, small size, single. New growth purple colour. Originated in Japan. See colour photo, p.89, Macoboy, 1981, The Colour Dictionary of Camellias. Orthographic error: 'Fuyujo'. Synonym for Kon-wabisuke.
Fuyujo Newman's Nursery Catalogue, 1982-1983. Corruption of the Japanese name 'Fuyajō', (Kon-wabisuke).
Nightless Quarter Macoboy, 1981, The Colour Dictionary of Camellias, p.88. Synonym for 'Fuyajo' (Kon-wabisuke).
Shikon-wabisuke Botan-en Catalogue, 1957. Synonym for Kon-wabisuke.
绀佗介 杨绍溥,1978,台湾茶花,p.75, No.167.
» English Description
McIlhenny, 1937, 600 Varieties of Camellia: Black­ish, dark red, single. A member of the C.japonica (Purpurea Group) and very similar to Kuro-wabisuke, by which pseudonym it is known in the Kansai District. Listed by Minagawa, 1962, Chinkashū, in the section on single flowers. Fully described in Tuyama, 1968, Camellias of Japan, pl.272, p.137, description, p.173: Leaves small, lanceolate to lanceolate elliptic, long tapering apex. Petioles glabrous. Buds nigrescent. Flowers dark red (Cardinal red 822 to 822/1), single, not so widely opened, ultimately cup-shaped. Mid-season to late flowering, floriferous. Origi­nated in the Hyōgo Prefecture, Japan. Synonyms: 'Purpurea', 'Shikon-wabisuke', 'Fuyajo'. See: Encylopedia of Camellias in Colour, vol.I, 1972, pl.1; Satō, 1975, Chūbu no Tsubaki, p.60; Seibundō Shinkōsha, 1979, Senchinshū, p.58. Yokoyama & Kirino, 1989, Nihon no Chinka, p.231. 'Kuro-­tsubaki' is given as a synonym in Chūbu Tsubaki Kyōkai, 1973, Tsubaki Meikan. Old trees are growing in the Owari District. Considered to be a form of wild japonica.