Type Image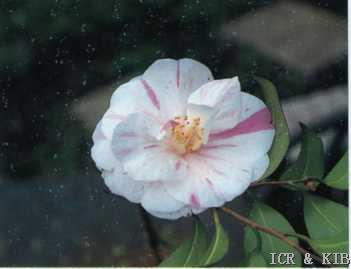 Chosen by wangzhonglang
Id:ICR-11515
Country:Japan
Year Published/Registered:1979
Cultivar Type:For Ornamental
AGM Type:
Scientific Name:Camellia japonica 'Maigoromo'
Species/Combination:C. japonica
Chinese Name:
Japanese Name:舞衣 まいごろも
Meaning:
Synonym:
Maiginu Inazawa Nurseries Co. Ltd Catalogue, 1980-1981.Different reading for Maigoromo.
» English Description
Seibundō Shinkōsha, 1979, Senchinshū, p.142, colour photo, p.248, description: Large size, white with a faint pink cast, semi-double with streaks of soft pink and light red, 3 rows of petals, broad, emarginate, with a small, compact stamen clus­ter. Leaves small, lanceolate, serrations shallow. Different reading: 'Maiginu'. Originated in the Kantō district, Japan.