Type Image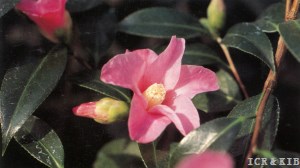 Chosen by wangzhonglang
Id:ICR-12517
Country:Japan
Year Published/Registered:1971
Cultivar Type:For Ornamental
AGM Type:
Scientific Name:Camellia 'Mikawa-sukiya'
Species/Combination:Wabisuke
Chinese Name:
Japanese Name:三河数寄屋 みかわすきや
Meaning:Mikawa tea house
Synonym:
Mikawa-sukiya-wabisuke Inazawa Nursery List of Plants, 1980-1981. Synonym for Mikawa­-sukiya.
» English Description
Kyōto Engei Kurabu, 1971, Tsubaki Tokushū, No.11, pp.29, 31-33, for botanical drawings, colour photo and description; Yokoyama , 1975, Gendai Tsubaki Meikan, p.218: Small, deep pink single with 5 oblong petals, innermost pointed, with a short, compact column of white filaments. Leaves long-lanceolate, apex long-acumi­nate, dull, dark green, sharply serrate. See: Seibundō Shinkōsha, 1979, Senchinshū, p.145 and p.141, Yokoyama & Kirino, 1989, Nihon no Chinka.The original tree is growing with a private family in Mikawa District, Aichi Prefecture, Japan. Named and released by Hiroshige Hayakawa in 1973. Sport: Otohime. Synonyms: 'Mikawa-sukiya-wabisuke', 'Momoiro-wabisuke' and 'Kira­wabisuke' in the Kansai area.