Type Image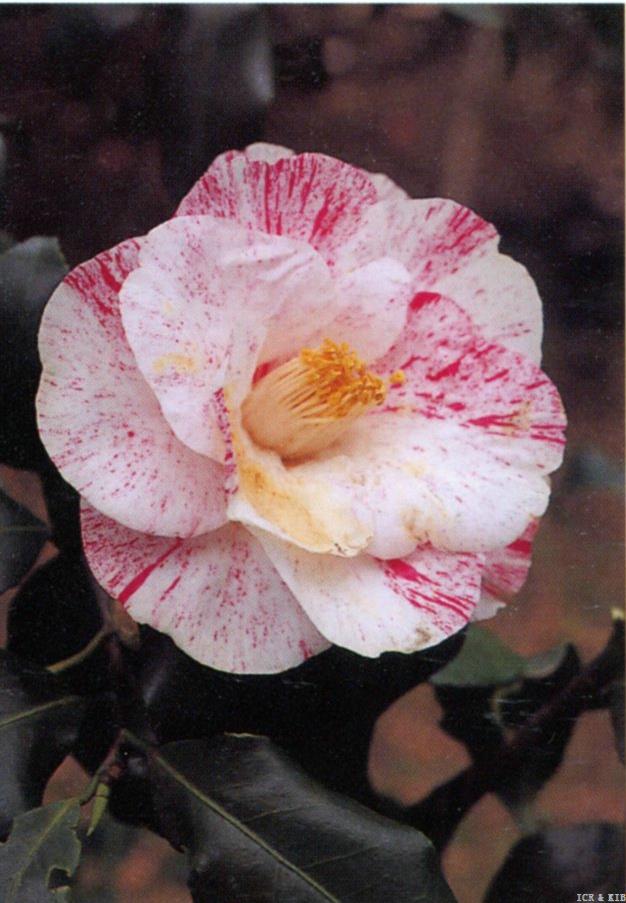 Chosen by Sueo Takano
Id:ICR-12832
Country:Japan
Year Published/Registered:1879
Cultivar Type:For Ornamental
AGM Type:
Scientific Name:Camellia japonica 'Miyako-no-nishiki'
Species/Combination:C. japonica
Chinese Name:
Japanese Name:都の錦 みやこのにしき
Meaning:Metropolis brocade
Synonym:
Brocade of City Hertrich, 1959, Camellias in the Huntington Gardens, vol.III, p.150. Synonym for Miyako-no-nishiki.
» English Description
Itō, Ko'emon, 1879, Chinkashū: White, striped pink, single. Fendig, 1953, American Camellia Catalogue: Large, white, variegated, single, 10-11 cm across. The colour is variable, ranging from white with occasional pink stripe to rose. There are 5-6 irregularly shaped petals, which are notched and wavy. The central stamen cluster is small. Filaments are white and stamens yellow. Leaves, dark green, 8 cm, x 4 cm, glossy, margins wavy, tip reflexed on a plant of slow, bushy growth. Sports: Miyako-no-nishiki Rosea, Shiro-ezo-nishiki. Corruption of Japanese name: 'Miy Ako No Nishiki'. Originated in Kantō, Japan. A sport of Ezo-nishiki. For colour illustration see: Yokoyama, 1975, Gendai Tsubaki Meikan, p.221; Seibundō Shinkōsha, 1979, Senchinshū, p.147.