Type Image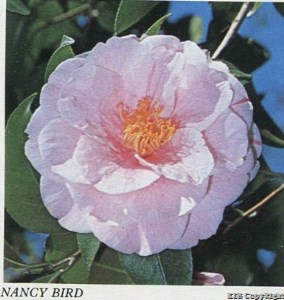 Chosen by wangzhonglang
Id:ICR-13523
Country:Australia
Year Published/Registered:1952
Cultivar Type:For Ornamental
AGM Type:
Scientific Name:Camellia japonica 'Nancy Bird'
Species/Combination:C. japonica
Chinese Name:南希伯德
Japanese Name:
Meaning:
» English Description
Waterhouse, 1952, Camellia Trail, pp.18, 24: A light pink sport of Jean Lyne. Identical to its parent except for colour. Originated in Australia. For colour photos see: Macoboy, 1981, The Colour Dictionary of Camellias, p.107; Encyclopedia of Camellias in Colour, vol.II, 1978, pl.119, p.62; ACRS.. 1977, Camellia News, No.66, p.22.
» Chinese Description
朱國棟、蔡燦玉,2011. 《台灣茶花族譜》,p.195.
Nancy Bird南希伯德(C. japonica)红山茶。1952,澳大利亚。'Jean Lyne'的淡粉红色枝变种。半重瓣〜牡丹形、淡粉红色、中轮、花期1〜2月。