Type Image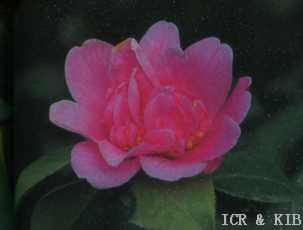 Chosen by wangzhonglang
Id:ICR-13770
Country:Japan
Year Published/Registered:1979
Cultivar Type:For Ornamental
AGM Type:
Scientific Name:Camellia rusticana 'Niizuma'
Species/Combination:C. rusticana
Chinese Name:
Japanese Name:新妻 にいづま
Meaning:
Synonym:
Nîzuma Izu-Ohshima, 1980, Hawaii Botanic Gardens List of Plants, p.14. Orthographic error for Niizuma.
» English Description
Seibundō Shinkōsha, 1979, Senchinshū, p.235: Peach red, peony form, petals about 30; in the centre the petals are mixed, stamens are separate, filaments yellow. Medium size. Flowers mid-season. Leaves, medium sized, wide oval, margins coarsely serrate. Plant habit, somewhat erect, variable. Intermediate between C.rusticana & C.japonica. Originated in Japan at Nao'etsu City, Niigata Prefecture. Named and released by Yaichi Kawamura in 1968. Different reading: 'Nîzuma'.