Type Image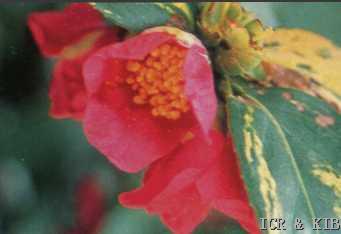 Chosen by wangzhonglang
Id:ICR-13840
Country:Japan
Year Published/Registered:1972
Cultivar Type:For Ornamental
AGM Type:
Scientific Name:Camellia rusticana 'Nishiki-no-mine'
Species/Combination:C. rusticana
Chinese Name:锦之峰
Japanese Name:锦の峰 にしきのみね
Meaning:Brocade of the Peak
Synonym:
锦の峰 蔡福贵,2005,世界茶花专辑,p.156, No.28
» English Description
JCS., ed., Encyclopedia of Camellias in Colour, vol.1, 1972, pl.453, p.185, description, p.360: Small, red, single, cup shaped. Leaves mid-green with golden speckling, broad-elliptic, blunt-acute, serrate. Originated in Niigata Prefecture, Japan. Named by Tsugitarō Nagao. See colour photos: Seibundō Shinkōsha, 1979, Senchinshū, p.108. Yokoyama & Kirino, 1989, Nihon no Chinka p.209.
» Chinese Description
朱國棟、蔡燦玉,2011. 《台灣茶花族譜》,p.198.
Nishiki-no-mine 锦の峰(Brocade of the Peak)。(C. rusticana)雪茶。1972,日本新潟县。不明野生雪茶选出。单瓣、杯形、红色、筒蕊、小轮、花期2~3月、树性丛生、叶片入淡黄色散斑。
锦の峰一蔡福贵,2005,世界茶花专辑,p.156, No.28