Type Image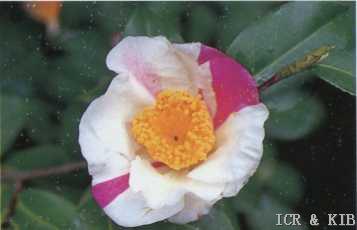 Chosen by wangzhonglang
Id:ICR-14329
Country:Japan
Year Published/Registered:1934
Cultivar Type:For Ornamental
AGM Type:
Scientific Name:Camellia japonica 'Oridono-nishiki'
Species/Combination:C. japonica
Chinese Name:
Japanese Name:織殿錦 おりどのにしき
Meaning:
Synonym:
Dainiji Katayama Catalogue, 1960; Encyclopedia of Camellias in Colour, vol. l, 1972, pl.136, p.81 ; Sebundō Shinkōsha, 1979, Senchinshū, p.205. Synonym for Oridono-nishiki.
Ordino-nishiki McIlhenny 1935, List of Camellias.... Corruption of the Japanese name Oridono-nishiki.
» English Description
Chūgai Nursery Catalogue, 1934-1935, p.32: Crimson variegation on white, double. Giant sized flower. Tuyama, 1968, Camellias in Japan, pl.330, p.167, description, p.188: Leaves elliptic, shortly acuminate, serrulate; petioles a little hairy. Flower single, white, cup-shaped, a few striped red in various degrees. Petals broad, over-lapping. Flowers mid-season to late. The same tree can bear white striped red, solid red or red striped with white. Originated in the Hyōgo Prefecture, Japan. Corruption of name: 'Ordono-nishiki', 'Oridino-nishiki'. Synonym: 'Dainiji'. See Seibundō Shinkōsha, 1979, Senchinshū, pp.30, 205. Yokoyama & Kirino, 1989, Nihon no Chinka, p.258. Resembles Shi­ratama-shibori, Shibori-rōgetsu.