Type Image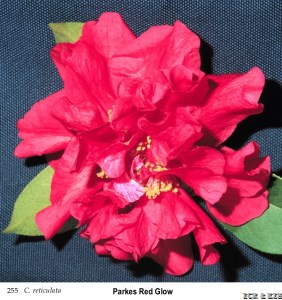 Chosen by wangzhonglang
Id:ICR-14730
Country:Australia
Year Published/Registered:1980
Cultivar Type:For Ornamental
AGM Type:
Scientific Name:Camellia 'Parkes Red Glow'
Species/Combination:C. reticulata hybrid
Chinese Name:红喜悦
Japanese Name:
Meaning:
Synonym:
Hongxiyue Gao, Jiyin, Ltr, 22nd August 1994. Chinese synonym for the Australian C.reticulata hybrid Parkes Red Glow.
Park's Red Glow Bob Wines Nursery Catalogue, 1985-1986, p.6. Orthographic error for Parkes Red Glow.
» English Description
ACRS, 1980, Camellia News, No.75, p.25, Reg. No.255: Originated by Edna Parkes, East Brighton, Victoria, Australia. A seedling of 'Cornelian', (Damanao) that first bloomed 1976. Upright, open growth habit with mid-green, lanceolate, 12 cm x 5 cm to ovate, 8.5 cm x 6.5 cm leaves with numerous, small serrations. Flower, semi­double, dark red, 15 cm across x 7 cm deep. Late flowering. See colour photo, p.40, ACRS., Camellia News, No.79. Chinese synonym 'Hongxiyue'.
» Chinese Description
高继银、苏玉华、胡羡聪,2007. 《国内外茶花名种识别与欣赏》,第268页。澳大利亚Edna Parkes先生培育,系由滇山茶'大玛瑙'(Cornelian)品种的实生苗所得。花艳红色至深红色,偶尔出现少量白斑,半重瓣型,巨型花,最大花径可达15cm,厚7cm,花瓣宽圆形,略呈波浪状,花心有黄色雄蕊,花量中等。叶片中等绿色,披针形,叶齿尖,植株立性,生长旺盛。花期晚。