Type Image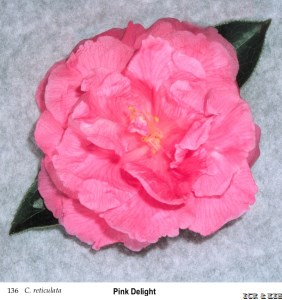 Chosen by wangzhonglang
Id:ICR-15087
Country:Australia
Year Published/Registered:1971
Cultivar Type:For Ornamental
AGM Type:
Scientific Name:Camellia reticulata 'Pink Delight'
Species/Combination:C. reticulata
Chinese Name:
Japanese Name:
Meaning:
Synonym:
Early Pink Delight Hazlewood & Jessep, 1972, Checklist - Camellia Cultivars from Nursery Cata­logues, p.65. Synonym for Pink Delight.
» English Description
ACRS., 1971, Camellia News, No.43, p.34, Reg. No.136: Originated by Edgar R. Sebire, Wandin North, Victoria, Australia from seed of unknown parents obtained from USA. First flowered 1969. The plant has an open, upright, vigorous growth habit; bloom­ing mid-season with 16 cm. across, semi-double, fuchsine pink flowers. The olive green, reticu­late leaves are 10-11 cm long x 5 cm wide with acuminate apices, obtuse bases and margins sharply serrated. Synonym: 'Early Pink Delight`.