Type Image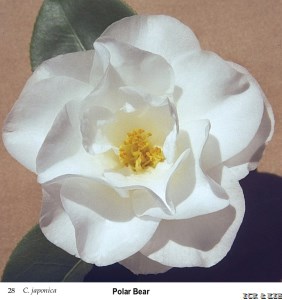 Chosen by wangzhonglang
Id:ICR-15249
Country:Australia
Year Published/Registered:1957
Cultivar Type:For Ornamental
AGM Type:
Scientific Name:Camellia japonica 'Polar Bear'
Species/Combination:C. japonica
Chinese Name:北极熊
Japanese Name:
Meaning:
Synonym:
Beijixiong Shao, Taichong, 1992, The Observations from the Camellia World, p.81, No.428. Chinese synonym for the Australian c.japonica Polar Bear.
Polo Bear Tammia Nursery Catalogue, 1965-1966. Orthographic error for Polar Bear.
北极熊 茶花林目录,1992-2006, p.21/28, No.860.
» English Description
ANZCRS., 1957, Camellia Annual, No.4, p.8, Reg. No.28: Seedling from Great Eastern, originated by E.G. Waterhouse, Gordon. N.S.W., Australia. Large, creamy white flowers, 10 cm across, with rounded outer petals and open centre showing short, stunted sta­mens, mingled with small petaloids. Foliage resembles its parent. See colour pl.XXIX, Urquhart, 1960, The Camellia. Colour photo, rear cover, ACRS., 1964, Camellia News, No.16. Chi­nese synonym: 'Beijixiong'.
» Chinese Description
朱國棟、蔡燦玉,2011. 《台灣茶花族譜》,p.215.
Polar Bear 北极熊(C. japonica)红山茶。1957,澳大利亚NSW,Gordon,E.G. Waterhouse培育选出。'Great Eastern'自然实生种。半重瓣、乳白色、中〜大轮(10cm)、雄蕊矮短退化、 混杂小瓣状蕊。
Polar Bear (北极熊)一茶花林目录,1992-2006, p.21/28, No.860.