Type Image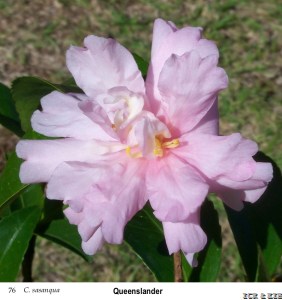 Chosen by wangzhonglang
Id:ICR-15739
Country:Australia
Year Published/Registered:1967
Cultivar Type:For Ornamental
AGM Type:
Scientific Name:Camellia sasanqua 'Queenslander'
Species/Combination:C. sasanqua
Chinese Name:昆士兰人
Japanese Name:
Meaning:
Synonym:
Kunshilanren Gao, Jiyin, Ltr 5th August 1992. Chinese synonym for the Australian C.sasanqua Queenslander.
» English Description
ACRS., 1967, Camellia News, No.28, p.4, Reg. No.76: Originated by Alex Scott, Birkdale, Queensland. Grown from seed imported from France of unknown parentage. First bloomed 1958 on a 4 year old plant. It has vigorous, open, upright growth with plum coloured young foliage. The flowers are 7.5 cm across, of a soft silvery pink with a bud centre opening out to an incomplete double. Leaves pale olive green, 5 cm x 2.5 cm, markedly serrate. Blooms mid-season.