Type Image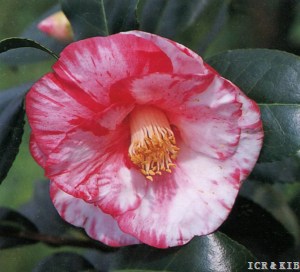 Chosen by wangzhonglang
Id:ICR-16709
Country:Japan
Year Published/Registered:1988
Cultivar Type:For Ornamental
AGM Type:
Scientific Name:Camellia japonica 'Sado-benifukurin'
Species/Combination:C. japonica
Chinese Name:佐渡红复轮
Japanese Name:佐渡紅覆輪 さどべにふくりん
Meaning:Red Bordered Sado
» English Description
Inazawa Nurseries Co. Ltd. Catalogue, 1988-­1989, p.5, A-210 with illustration; Yokoyama & Kirino, 1989, Nihon no Chinka, p.350, colour photo and description: Large size, light pink with stripes and an irregular border of red, semi­double with central stamen column. Leaves mid-green, broad-ovate, apices abrupt acuminate, margins serrate. Originated in Hamo Town, Niigata Prefecture, Japan with a private family. Named and released by Tokuji Ōoka in 1975. Sport of Ezo-nishiki.
» Chinese Description
朱國棟、蔡燦玉,2011. 《台灣茶花族譜》,p.233.
Sado-benifukurin 佐渡红复轮(Red Bordered Sado)。(C. japonica)红山茶。1988,曰本新潟县。Ezo-nishiki (蝦夷锦)的枝变种。佐渡郡的民家栽培种,1975年,大冈德治命名发表。半重瓣、桃色底、红色覆轮、大小红色条纹、斑、筒蕊、大轮、花期12〜2月、中型椭圆叶片、肉厚波曲、树性横张、长势强。