Type Image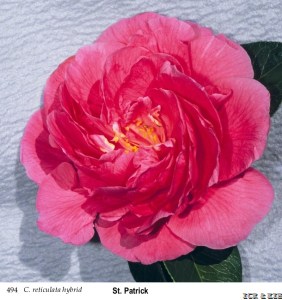 Chosen by wangzhonglang
Id:ICR-16763
Country:Australia
Year Published/Registered:1997
Cultivar Type:For Ornamental
AGM Type:
Scientific Name:Camellia 'Saint Patrick'
Species/Combination:C. reticulata hybrid
Chinese Name:
Japanese Name:
Meaning:
Synonym:
St. Patrick See Saint Patrick.
» English Description
ACRS, Camellia News, 1997, No.143, p.17, colour photo p.2, as 'St. Patrick'. Reg. No.494. Originated by Dr R.M. Withers, Donvale, Victoria, Australia. Seed parent, C.reticulata hybrid Mouchang, pollen parent unknown. First flowered 1986. An informal double, light red (RHS.CC.51A) flower with 24 petals and occasional petaloids, 15 cm diameter x 8 cm deep. Flowers freely mid-season on a rapid growing, upright, open plant. Leaves dark green, glossy, elliptical, keeled, serrate margins, acuminate apex, 11 cm long x 5 cm wide. Petals notched, fluted and folded in centre. Filaments in groups.