Type Image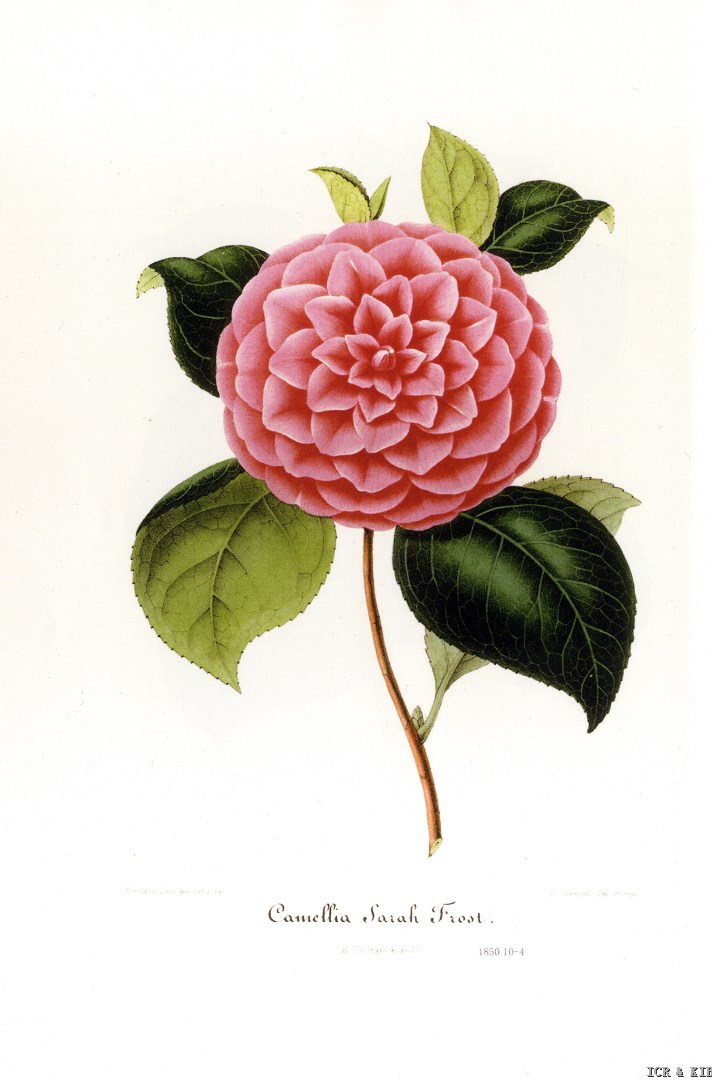 Chosen by Gianmario Motta
Id:ICR-16983
Country:United States
Year Published/Registered:1848
Cultivar Type:For Ornamental
AGM Type:
Scientific Name:Camellia japonica 'Sarah Frost'
Species/Combination:C. japonica
Chinese Name:白霜
Japanese Name:
Meaning:
Synonym:
Clark Red McIlhenny, 1935, List of Camellias for Sale, p.3.Synonym for Sarah Frost.
Clark's Red Manning, 1931, Plant Buyer's Index, ed.3. Synonym for Sarah Frost.
Clarke Red McIlhenny, 1937, 600 Varieties of Camellias, p.2. Steffek, 1937, Plant Buyer's Guide, ed.5, p.48. Synonym for Sarah Frost.
Clarke's Red Vanderbilt, 1940, Camellia Research, p.3. Synonym for Sarah Frost.
Froostii Medici Spada, 1857, Catalogo nel Giardino a Villa Quiete, p.11. Orthographic error for 'Frostii', synonym for Sarah Frost.
16 show +
» English Description
Berlèse, 1848, Annales de la Société Cen­tral d'Horticulture de France, vol.40, p.226: Originated by Ritchie & Dick, USA. Flower ranun­culiform, 10 cm across, clear cherry red or crimson rose. Corolla perfectly round, composed of 8-9 rows of petals, superimposed one on the others with perfect regularity. Petals numerous, well displayed, proportional to the row which they occupy, sometimes divided by a white line. Leaves dull green, rounded, shallow serrations, 8 cm x 5 cm. Plants are vigorous, compact and hardy. Flowers mid-season to late. Synonyms: 'Clarke's Red', 'Owl Face', 'Sarah Frost' (South), 'Frostii', 'Red Clarke', 'Sarah Frost (1)', 'Frosti'. Orthographic errors: 'Sara Frost', 'Sarrah Frost', 'Froostii'. Pseudonyms: Adrien Lebrun and Enrico Bettoni have been erroneously equated wth Sarah Frost in USA. See colour illustrations: Fendig, 1949, American Camellia Catalogue. Verschaffelt, 1850, Nouvelle Iconographie, Book X, pl.IV; G.G. Gerbing, 1945, Camellias, p.197; Hume, 1955, Camellias in America, vol.II, p.272. NOTE. The cultivar described by Hillebrand (2003) at p. 333 is different, because it features a peoniform flower and lanceolate leaves .
» Chinese Description
朱國棟、蔡燦玉,2011. 《台灣茶花族譜》,p.236.
Sarah Frost 沙拉冻(C. japonica)红山茶。1839,美国,Ritchie & Dick培育选出。完全形、樱桃红〜深玫瑰红、8〜9重轮列、中〜大轮(10cm)、花期1〜3月。花名:人名(莎拉• 佛罗斯特)。同种异名:Clarke's Red、Frostii、Owl Face、Red Clarke。
Sarah Frost (沙拉冻)一茶花林目录,1992-2006, p.23/28, No.1126.
Sarah Frost (白霜)一新竹市茶花产销班目录,2002-2006, p.66, S56.