Type Image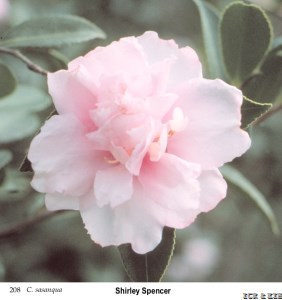 Chosen by wangzhonglang
Id:ICR-17723
Country:Australia
Year Published/Registered:1978
Cultivar Type:For Ornamental
AGM Type:
Scientific Name:Camellia sasanqua 'Shirley Spencer'
Species/Combination:C. sasanqua
Chinese Name:舍丽
Japanese Name:
Meaning:
Synonym:
Sheli Gao, Jiyin, 2007, The Identification....Outstanding Camellias, p.418; Chinese synonym for the Australian C.sasanqua Shirley Spencer.
» English Description
ACRS., 1978, Camellia News, No.70, p.16, Reg. No.208: Originated by Alice Spragg, Sutherland, N.S.W., Australia as a seedling of Cherilyn. First flowered 1975. The upright, dense plant has leaves 5.5-7 cm long x 2.5-3.3 cm wide, with distinct serrations. The 7.5 cm across Debutante pink flowers have fringed petals and flower early to late. Chinese synonym 'Sheli'.
» Chinese Description
高继银、苏玉华、胡羡聪,2007. 《国内外茶花名种识别与欣赏》,第342页。澳大利亚Alice Spragg先生培育,系由茶梅'茶丽林'(Cherilyn)品种的实生苗所得,属普通茶梅。花淡粉红色,花瓣基部呈深粉红色,有微香,半重瓣型至托桂型,中型花,外部花瓣宽圆形,平铺,边缘流苏齿状,中部花瓣直立扭曲,花心偶见少量黄色雄蕊混生,花朵稠密。叶片浓绿色,椭圆形,叶齿明显,光亮,植株立性,枝叶稠密,生长旺盛。花期早至晚。