Type Image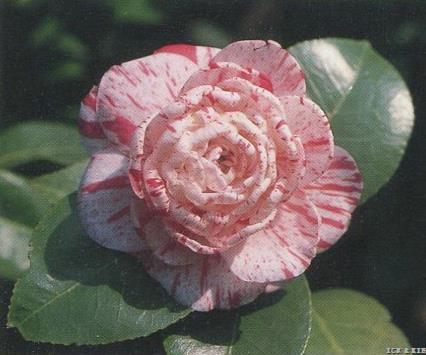 Chosen by wangzhonglang
Id:ICR-18276
Country:Japan
Year Published/Registered:1879
Cultivar Type:For Ornamental
AGM Type:
Scientific Name:Camellia japonica 'Somekawa'
Species/Combination:C. japonica
Chinese Name:染川
Japanese Name:染川 そめかわ
Meaning:Name of Kabuki Actor
Synonym:
Sen'e-zaki Synonym for Somekawa.
Somegawa Different reading for Somekawa.
Somekawa Variegata McIlhenny Catalogue, 1941, p.14 as 'Somegawa Variegata'. Orthographic error for 'Somekawa Variegated', synonym for Somekawa.
Somekawa Variegated Domoto Nursery Catalogue, 1935. Synonym for Somekawa. This name was also used erroneously in America for Eureka Variegated and Uncle Sam Variegated.
» English Description
Itō, Ko'emon, 1879, Chinkashū: Formal double. Light pink, spotted and striped deeper pink, medium size. Yokohama Gardeners'Association Nursery Catalogue, 1891. p.8: White with carmine striped. Tuyama, 1966, Camellia Cultivars of Japan, pl.45, p.84; Tuyama, 1968, Camellias of Japan, pl.391, p.199, description, p.206: Leaves ovate-oblong to oblong-elliptic, dark green, a little plicate along the midrib, venation lightly impressed, margins obscurely crenate, petioles more or less hairy. Flowers complete double, pink, narrowly and densely striped or spotted dark red, (Cardinal red 82/3). Late flowering. Sports to Haku-otome. See: Encyclopedia of Camellias in Colour, vol.I, 1972, pl.439, p.356; Yokoyama & Kirino, 1989, Nihon no Chinka, p.401. Originated in Kantō area, Japan. Somekawa is the family name of a famous actor of the Edo period. Different reading: 'Somegawa'. Sports: Sumizome, Somekawa Rosea. For colour photo see, Seibundō Shinkōsha, 1980, Senchinshū, pp.85, 220. In America this cultivar name has been erroneously confused with Eureka Varie­gated and Mrs Confer. Synonym: 'Somekawa Variegated'. Resembles 'Kikusarasa'.