Type Image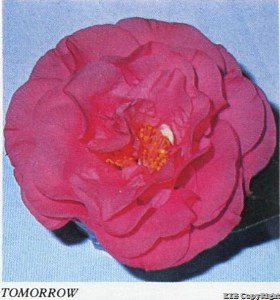 Chosen by wangzhonglang
Id:ICR-19588
Country:United States
Year Published/Registered:1954
Cultivar Type:For Ornamental
AGM Type:
Scientific Name:Camellia japonica 'Tomorrow'
Species/Combination:C. japonica
Chinese Name:明天
Japanese Name:
Meaning:
Synonym:
Mingtian Gao, Jiyin, Ltr, 30 July 1990. Chinese synonym for Tomorrow.
To Morrow Nantes, Services des Espaces, Collections, 1980. Orthographic error for Tomorrow.
Tomorrow Contortionné J & F Thoby, Gaujacq, France, Catalogue, 2009, p.8; Red, peony form. Insufficient description to decide if it differs from the many named sports of Tomorrow.
Tomorrow Peony Hazlewood & Jessep, 1972, Checklist - Camellia Cultivars from Nursery Catalogues. Synonym for Tomorrow.
吐毛露 新竹市吴医师,1977,日本进口西洋茶花#9。
2 show +
» English Description
American Camellia Yearbook, 1954, p.335, Reg. No.145: An 8 year old seedling of unkown parentage, originated at Tick Tock Nursery, Thomasville, Georgia, USA and first bloomed in 1950. Plant growth is rapid, open and slightly pendulous, with mid-green, oval leaves, coarsely serrate. Flower buds large, round, brown, showing colour a long time before opening. Flowers are incomplete double with large petaloids (Similar to Gloire de Nantes), 20-22 petals, 13-15 cm across. Flower colour is strawberry red, slightly lighter than Woodville Red. Blooms early to mid-season. Received the 'John Illges Award' in 1956 and the 'National Camellia Hall of Fame Award' in 1978. RHS., 'Award of Merit', 1960. Synonym: 'Ed Anderson'. See colour photos: American Camellia Yearbook, 1958, facing p.114.; Macoboy, 1981, The Colour Dictionary of Camellias, p.121. This camellia has generated the largest number of sports of any camellia so far, according to the number that have been named. No doubt many of them are very similar. They are as follows: Tomorrow Blush, Tomorrow Crown Jewel, Leanne's Tomorrow, Tomorrow Delight Variegated, 'Tomorrow Moonlight', 'Tomorrow, Marbury's Light Pink', 'Tomorrow Peaches', Tomorrow Park Hill, 'Tomorrow Pink', 'Tomorrow Queen', Tomorrow Park Hill Blush, 'Tomorrow Supreme', Tomorrow Park Hill Pink, Tomorrow White, 'Tomorrow Sunrise', Tomorrow Peony Variegated, 'Tomorrow Tuxedo', 'Tomorrow Pink Variegated', Tomorrow Variegated, Tomorrow's Dawn, Tomorrow's Lisa, Tomorrow's Dawn Bessie, Tomorrow's Delight, 'Tomorrow's Dawn Delight', Tomorrow's Dawn Blush, Tomorrow's Dawn Peony, Tomorrow's Dawn Variegated, Tomorrow's Tropic Dawn, Tomorrow's Sweet Image, Queen of Tomorrow, Pink Tomorrow, Pink Tomorrow Variegated. Chinese Synonym: 'Mingtian'.
» Chinese Description
朱國棟、蔡燦玉,2011. 《台灣茶花族譜》,p.268.
Tomorrow 明日(C.japonica)红山茶。1954,美国乔治亚州Thomasville,Tick Tock种苗园。 8年不明实生种,初花1950年。半重瓣~牡丹、草莓红、大~巨大(13~15cm)、花瓣约20~22枚、花期12~2月、树性直立~横张、长势强、枝纤细、垂枝性生长。突变种:Tomorrow White、 Tomorrow Variegated、Tomorrow's Dawn。
Tomorrow (吐毛露)一新竹市吴医师,1977,日本进口西洋茶花#9。
Tomorrow (明日)一茶花林目录,1992-2006, p.26/28, No.703.
Tomorrow (明天)一高继银,1998,世界名贵茶花,p.90, No.4.